Barcelona welcomed Atlético Madrid to the Camp Nou today in what is becoming a regular rivalry of increasingly large stakes. It was a Champions League matchup this time, as tense and cagey as you'd expect—that is, until Diego decided he'd had enough and straight flattened a ball into the net from about 25 yards.
Here's a gif: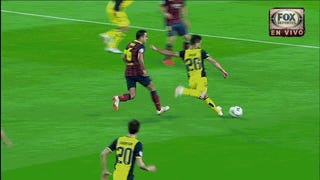 The shot comes from the outside of Diego's boot, from a nearly impossible angle, and bends inch-perfectly into the upper corner of the net. Not too bad from a guy who started on the bench.
The Spanish call going from 0 to 60 in 0.2 syllables is just as sublime as the strike:
Neymar would equalize in the 71st minute but the rojiblancos withstood Barça's late push and held on to the draw. The concluding leg of this tie is April 9th, which itself will be a warm-up to their La Liga-closing contest that could be for the domestic title.