Using his uncanny speed and catlike reflexes, Manny Ramirez could probably patrol the entire outfield by himself if he wanted to. But that would probably just dishearten the other two guys and cause team dissension, so he restricts himself to left. In fact, like Clark Kent, Manny has to tone it down out there so that no one suspects that he has superhuman abilities. Yes, he tones it down a lot. Quite a lot. A TON. You're killin' us, Smalls!
OK, we didn't actually see the live version of the play in this photo here, so it's possible that Ramirez had no chance at this 11th-inning Jose Lopez double to left-center that drove in the winning run in Seattle's 2-1 victory over Boston. But we've seen enough of Manny's defensive stylings to wonder aloud how bad of a fielder David Ortiz has to be in order to keep Manny from the DH spot. The answers are shrouded in mystery. For the record, when Manny himself was asked if he thought he was going to catch the Lopez hit, his response was: "I had no idea, man.'' Say hey, Manny.
• But We Kid The Red Sox. Even though it suffered its first sweeping of the season, Boston is still in first in the AL East, a comfortable and luxurious nine games ahead of the Blue Jays. If we had to be any team in baseball — with or without Manny in the outfield — we'd still pick Boston. And the Mariners aren't doing too shabby themselves, five games behind the first-place Angels in the West, and 7-3 in their past 10 games. Boston has lost eight straight at Safeco Field.
• Happy Valentin Day. On Wednesday Reds manager Jerry Narron said of reliever David Weathers: "He's like Rollie Fingers and Goose Gossage." First of all, it has to be one or the other ... we can't think to two more opposing images. Second, what? And third, gee, no pressure there. Javier Valentin's double in the eighth broke a tie and ended up winning it for the Reds, 9-6, over the Phillies, as Weathers got the final six outs. Philadelphia's Ryan Howard had his 100th career homer, in his 325th game, becoming the fastest player to reach 100 in major league history.
• One Score And Seven Years Ago ... History will little note nor long remember Kansas City's three-game sweep of the Angels, which culminated with a 1-0 win on Wednesday. But Mike Scioscia certainly is pissed. Jorge De La Rosa won for the first time since May 13 and Mark Teahen singled home the only run in the third.
G/O Media may get a commission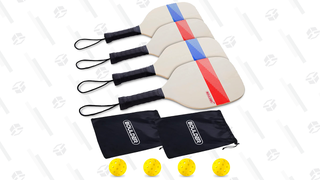 It's Pickleball
Pickleball Sets
• Hey! They Prefer To Be Called Little People! Carlos Zambrano is like your drunk uncle at any family gathering. After Mike Fontenot went 3-for-4 with a homer in Chicago's 6-4 win over Colorado, Zambrano said of his teammate: "I didn't know short men could hit the ball like that. He hits the ball like a man. I feel happy for him.'' We were still reeling from that when manager Lou Pineilla followed with: "Winning is like a massage. It's like a relaxer. You start playing with more confidence.'' He's 5-foot-8! And don't touch me!