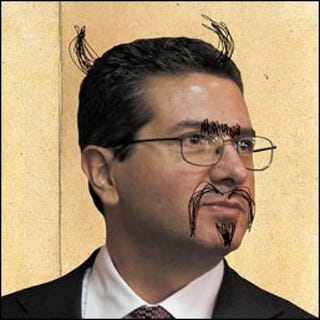 Here's your daily link to Dave McKenna's brilliant "Cranky Redskins Fan's Guide to Dan Snyder," which we'll be posting until Snyder's dumbass libel suit faces a shutdown of its own.
Here's a comment on a DCist post about what would and wouldn't be closed if the feds lock their employees out. It comes from someone who goes by the name MtPleasantEnough:
Thankfully, the government shutdown has no effect on our ability to make accusations against Dan Snyder. #snyderlibel party, anyone?
Not a bad idea. There, we can talk about who hasn't yet made a donation to the weekly's legal defense fund and convince them to do so, MtPleasantEnough.