Here's your daily link to Dave McKenna's brilliant "Cranky Redskins Fan's Guide to Dan Snyder," which we'll be posting until Snyder's dumbass libel suit gets its teeth rapped in with a wrench.
Ohtani has the WBC, but will Mike Trout ever lead the Angels to a championship? | Agree to Disagree
Before Dan Snyder got all litigious on McKenna, he had the Redskins general counsel, a spineless sellout named David Donovan, send an amusing letter to the guys who run Atalaya Capital Management, an investment firm that manages the parent company of the Washington City Paper. Donovan's letter was designed to intimidate and was also very poorly written. But this doesn't surprise us. After all, Donovan once wanted to be a journalist only to discover he could never hang with any real ones. So what does he do? He tuns on them.
Looking at Donovan's bio on the website of the WilmerHale law firm, it's hard not to imagine this treacherous hack writing the thing himself one evening, a tumbler of Scotch by his Selectric, a well-thumbed copy of Strunk and White close at hand, polishing what only a failed writer or a moron would consider a good scene lede:
On a recent Sunday evening, with the lights of an empty stadium still illuminating the dark autumn sky, David Donovan sat perched in his usual post-game spot, sharing a skybox with Washington Redskins owner Daniel Snyder. The game, now a distant memory for some, was still top of mind for Donovan, and one thing was still clear: for members of a football team, including their in-house lawyers, the job gets harder further into the calendar year.

Earlier that night, the Skins hosted the Cowboys in a crucial game: a win and the Redskins could virtually assure Dallas would be home for the playoffs. But the team's bitter rival won the pivotal game 14-10, allowing the Cowboys to pull even in the standings, preventing the Skins from taking a big step toward making the playoffs. While the loss was deflating for the fans, Donovan says it's just as painful for those working for the team, if not more so.

"The whole atmosphere turns so much on whether we're winning or losing," says Donovan. "It affects every aspect of the business. And even if it didn't, coming to work on a Monday morning after a win is a world apart from coming in after a 3 am flight home from Dallas after a loss."

As general counsel of the Washington Redskins, Donovan is totally invested in not only helping billionaire owner Daniel Snyder navigate the legal issues facing his organization, but also in the wins and losses that define an organization.
G/O Media may get a commission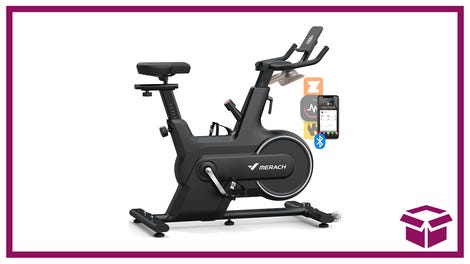 14% off + Coupon
Merach Indoor Cycling Bike
Lawyering is easy compared to getting through that pap.
If you're interested in supporting actual journalists, please make a donation to the weekly's legal defense fund.