Jake Paul, a former Vine star who parlayed that into a Disney Channel gig, lives in West Hollywood, and the insane white boy shit he's committing regularly has pissed off his neighbors to the point where they're considering legal action.
As KTLA reported, Paul, a Ryan Lochte spinoff that only ran for six episodes, goes above and beyond a merely annoying neighbor. Because he lets his fans know where he lives, they're usually on the street taking up space. He performs his dumb pranks everywhere and is extremely loud. He and his band of chucklefucks burned a mattress in an empty pool and made a big smoky mess. If you want a sense of who he is, here's a sizzle reel featuring an assortment of stunts:
If your morbid curiosity wasn't sated with that first one, here's an even longer video:
When KTLA's Chris Wolfe went to Paul's house to confront him about his neighborhood's complaints, the resulting segment was a work of art. Paul came out of his residence to do more insane white boy shit for the cameras. He jumped on the news van and acted Totally Random.
"Honestly, yeah it's terrible," Paul said about his neighbors' complaints. "It's a bad situation. No, I feel bad for them, for sure. There's nothing we can do, though. The Jake Paulers [Paul's fans] are the strongest army out there. Dab." And then he dabbed.
The final shot in the segment has Paul pointing to reporter Chris Wolfe's shoes and yelling "What are thoooose?"
G/O Media may get a commission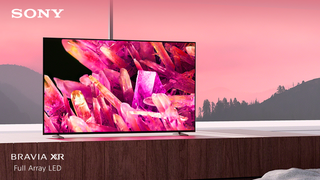 $400 off
Sony 55 Inch 4K Ultra HD TV X90K Series
Once KTLA's report picked up attention, Paul observed that the media was focusing on his behavior and not the innocent people being shot every day:
As Wolfe reported, the neighbors plan to meet next week and might file a class action public nuisance lawsuit if Paul keeps at it. This overgrown teen is a menace and should chill the fuck out.