We get many tips every day. (By the way, email us at tips@deadspin.com!) Some of these are dead ends; others are not. A few weeks ago, someone emailed us with a weird story involving pictures of nude celebrities that, without going into it in detail, sounded and sounds like total bullshit. But then there was today's celebrity nude pic deluge, and now we're perplexed.
We'll skip the original email, since it made a variety of unsupported inferential leaps involving a celebrity doing something implausible. Still, mildly intrigued, one of our writers reached back to the tipster, and got the following response.
Ok listen, there's this guy who messaged my girlfriend on facebook saying he would pay 5k for her to send either naked pics or videos. ("Sex would never be a requirement").

As any guy would, I messaged him to tell him to fuck off. He then proceeded to explain how he has naked pics and videos of a bunch of famous people. He sent me pretty legitimate pics of McKayla Maroney, Jennifer Lawrence, Alana Blanchard, Aubrey Plaza, and Victoria Justice. Most of them are topless or naked and he blacked out a couple of the J-Law ones. He says if I want the pics to send me pics of my girlfriend lol, which won't happen. I'm still trying to get more out of this guy, who also claims he invented the patent for Reverse image search to Google. This might be sketchy but wouldn't you like to know how he has all of these pics? I'll send them to you too if you want
One of our writers, intrigued by the idea of a presumably wealthy tech bro using nude photos of famous people to harass internet users, followed on and heard this:
I'll send you all pictures and my communication with this guy when I get back home later tonight.
G/O Media may get a commission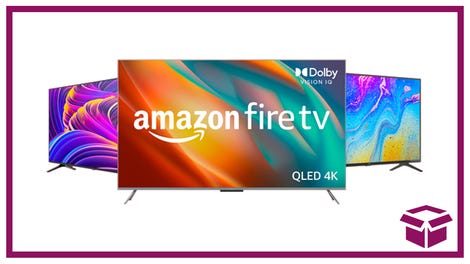 Ooh. stunning.
New Amazon Fire TVs
We didn't get any pictures and communications from the tipster after that. No photos or anything. Still ... all those names have surfaced on the alleged master list of nude photos. (Victoria Justice claimed her leaked photos were fake.) We have no idea what to make of this. Someone or other—call him Pervert Zero—was touting this specific list of celebrity nudes, and apparently attempting to use it to get random internet users' nudes. Was the guy who leaked the nudes today Pervert Zero, or someone else? If the leaker wasn't Pervert Zero, did he hack him, rather than (as he claims) iCloud? This is all confusing; maybe there's something else entirely going on. At any rate, these photos appear to have been floating somewhere in the bowels of the internet one way or another for awhile, and yet in trying to figure anything out about them, we're stuck at a dead end. We tried contacting our original tipster today with no response. Know anything about some sketchy tech weirdo trying to use Jennifer Lawrence nudes to get still more nudes? Drop us a line: tips@deadspin.com.
Photo: AP