Early on in this otherwise fine Yahoo piece on the ongoing and contentious contract negotiations between the Broncos and all-world linebacker Von Miller, I did a double-take at this line:
Sources close to Miller, however, told Yahoo Sports that the player actually accepted two significant parts of Denver's offer on Monday night: specifically, the length of the contract (six years) and the overall money ($114.5 million).
Also, this:
When it comes to big contracts, if you've only agreed to length and overall value, you haven't agreed to anything at all. More and more people are starting to grasp this, but still nearly not everyone: Everything in an NFL contract that's not fully guaranteed money is, functionally, imaginary.
Length only counts for the sake of spreading out a salary cap hit; no one in the modern NFL plays out a six-year deal under its original terms. Overall money only counts as good PR for teams and agents; it'll never all be paid out. What Miller and the Broncos are still haggling over—the amount of guaranteed money, whether it's fully guaranteed or for injury only, and the amount and reachability of various performance bonuses—is all that matters.
G/O Media may get a commission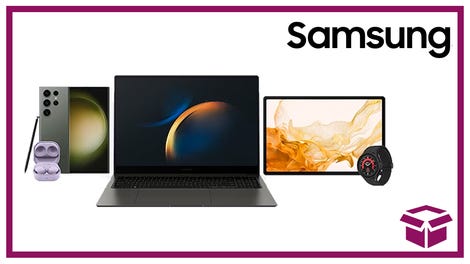 24 hour deals
Discover Samsung - Daily Deal
The Denver Post's Mark Kiszla writes about how this is another example of John Elway's Broncos being cheap, though Kiszla is quick to mention (and he's right) that in a salary cap league, trimming costs where possible and pressuring players to offer hometown discounts can be a very good thing.
By back-loading the most lucrative salary years to Miller while guaranteeing less than 35 percent of their $114.5 million proposal, it appears the Broncos might be trying to win public sentiment for an offer that's more brag than substance.

[...]

Miller is Texas born and raised. He knows the definition of big hat, no cattle. And Elway is wearing a 10-gallon Stetson, while peddling cow pies.
There's a healthier way to view big contracts and contract offers, that's both more accurate and more helpful for putting them into context with big earners in other sports—and in comparison with each other. Simply take the guarantees and divide them by how long it'll take to pay them out. This is far from exact, but it's a hell of a lot closer than considering the full, imaginary contract.
Under this math, J.J. Watt is on a two-year deal worth $25.9 million a year. Ndamukong Suh is making $20 million a year for three years. And Olivier Vernon, whose guarantees Miller is adamant on surpassing (and for good reason), will make $26.25 million a year for two years.
The Broncos' offer to Miller? Essentially two years, at $19.9 million a year. You can see why he's pissed.
The Broncos have leverage, in the form of a franchise tag for $14.1 million. But Miller has leverage too: if the Broncos don't lock him up now, at age 27 and in his prime as the best linebacker on the planet, someone else will happily give him the guarantees he wants next year.