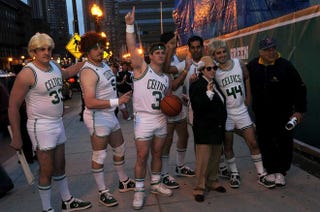 We didn't get to make a pre-series prediction yesterday because we were being all wussy misty-eyed, but we would have gone with Lakers in five. Oops.
We actually thought Simmons' preview was excellent yesterday because it reminded us of just how crazy it is that Phil Jackson's anti-Kobe book was so recently written. (And brutally so; that line about Jackson not being surprised by the rape charges because of Kobe's "surprising anger" still knocks us over.) Kobe had been so amazing in the playoffs so far that we had forgotten that he used to be that Kobe, frustrated, selfish, confused. He wasn't quite that guy last night — it's so fun to watch him keep looking for the pooping Pau Gasol over and over — but the shots weren't falling, and next thing you knew he was forcing it, and next thing you knew Paul Pierce was MIRACULOUSLY RECOVERED, and next thing you knew the Celtics were up 1-0 and Sunday is looking extremely hairy for the Lakers.
But these teams are clearly more evenly matched than we thought. But, having watched the whole game in a room full of Celtics fans, we'll say this: We don't know if we've seen a collective fanbase of a winning team dislike a guy more than Celtics fans dislike Sam Cassell right now. Every shot he puts up is one too many for those guys.
So yeah: In one game, we've had about 75 more thrills than last year's NBA Finals gave us. We'll take it.