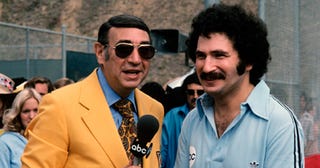 This has been a nice short week, building up to the inevitable shitshow that will start next week. That's right — changes are afoot at Deadspin. But we'll work through them together and make every attempt to keep this place as lively as usual given the circumstances. It's not earth-shattering, but it's just one of those design things that will appear to be a big deal at first and then be not-so-traumatic once everybody gets used to them, including me.
You'll know when it happens.
One last email question for the day:
AJ,
Are you absolutely sure that you're not the son of Gabe Kaplan, famous for Welcome Back Kotter? Look at this picture:
I rest my case.
Chad (Shoopmonster)
No, you dickfuck. And please say goodbye by to Shoopmonster, who will lose his commenting abilities starting next week.
Anyway — check out the top stories page to see what happened this week. I'm sick of fucking around with links and I need a nap.
I believe Tuffy and Spud are on board this weekend to talk about things sports-related. Monday, we'll be back in full swing.
Those of you who'd like to come to Kildare's this evening — gimme a shout. You know where to find me.
Thanks for your blahblahblah Deadspin.
Lates.