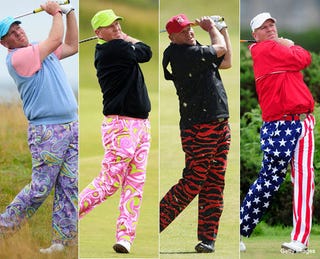 In sports, everyone is a winner-some people just win better than others. Like John Daly's technicolor pants party explosion which added some needed zing to an otherwise boring British Open.
Oosthuizen! That's a human name, and the name of your winner. All due respect to Louis Oosthuizen, as there's nothing more charming than first time winners ("I woke up this morning and I looked at it, and I immediately grabbed the phone and texted Chubby Chandler, my agent, saying, 'I've got this funny old jug next to my bed," he said today), but we're going to need a bigger name atop the leaderboard if that name's going to be at the top without interruption from the sixth hole on Friday.
Tiger Woods? His new putter lasted all of three rounds, before he returned to his original. At least that's one dalliance that didn't cost him a committed relationship, and a $100 million settlement.
There were no Americans within ten shots of the lead, and even the foreigners we liked couldn't get it done: after a week of hearing just how hot Justin Rose had been, he misses the cut.
So, altogether a boring British open. Thankfully there's one man we can always count on for a good time. John Daly showed up at the Royal and Ancient possibly still drunk, with his Hooters waitress girlfriend, ready for a party. And, surprisingly enough, ready to golf.
Daly fired a 66 on Thursday. While he couldn't replicate it, it's those flashes of brilliance which keep us coming back (and keep him coming back, thanks to sponsors' exemptions). With his cartoonish antics the past few years, it's easy to forget just how good a golfer he can be when the stars align.
Time and lifestyle make it unlikely they'll ever align four days in a row for Daly, but that's not the point. He may never win again, but at least he's fun to watch try.
(Image via Devil Ball/Getty Images)