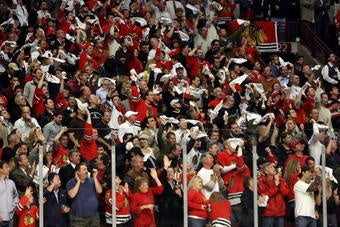 In sports, everyone is a winner—some people just win better than others. Like the newest fans of the Stanley Cup finals-bound Blackhawks. They must feel really good about dropping $150 on that Patrick Kane jersey in the UC giftshop.
The Blackhawks completed the sweep of the San Jose Sharks yesterday, scoring four unanswered goals to advance to the franchise's first Stanley Cup finals appearance since 1992. Like another Chicago team, the Hawks currently are mired in their sport's longest championship drought, having last hoisted Lord Stanley's Cup in 1961, back when Stan Mikita was a player and not a donut-shop proprietor. But you wouldn't know it from the packed United Center crowds we've seen this postseason, thousands of people singing along to this:
Chicago has been a relatively spoiled city these past 20 years. The Bulls owned the '90s, and the White Sox won a World Series after an 86-year drought. Even the Cubs and the Bears occasionally threatened to win something. But the Blackhawks always got lost in the shuffle, lone Stanley Cup appearance aside. They had players like Jeremy Roenick, Chris Chelios, Ed Belfour, even Dominik Hasek for a couple of shifts (until he was shipped off and turned into Eric Daze). But they got rid of all of them, pinning the hopes of the franchise on an ignominious series of "stars" like Alexei Zhamnov, Daze and, more recently, an aging Nikolai Khabibulin. Like all fairy tales, the Blackhawks' finally began when a cantankerous old man died.
After Bill Wirtz passed, his son Rocky assumed control of the franchise, and their fortunes changed almost immediately. No longer were home games blacked out; the family had partial ownership of a cable station. The team hired away marketing guru John McDonough, fresh off a revitalization of the Cubs and Wrigley Field. The Blackhawks got lucky in back-to-back drafts, landing Jonathan Toews and Patrick Kane. They started spending money, bringing in high-priced free agents like Brian Campbell and Marian Hossa with epochally long contracts. They started winning.
Now Rocky Wirtz's hard work has paid off. The team is headed to the finals; Vince Vaughn is a fan; people are talking about hockey in an Original Six city. Balance has been restored to the NHL, and so forth. The Blackhawks have earned their bandwagoners. Sure, these people will make a break for the Bulls the moment LeBron puts pen to paper, and after that it's only a matter of weeks until they're obsessing over football and wondering why Jay Cutler throws so many interceptions. But for now, for once, it's the Blackhawks' town. Duh-duhduh-duh.