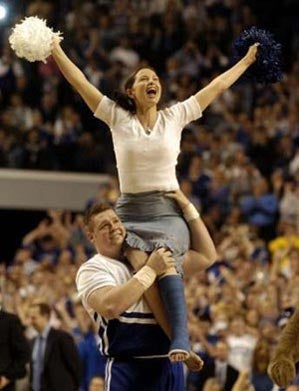 We know we haven't done the best job previewing the upcoming college basketball season, but it's not for lack of interest: It's just that there are so many freaking teams, man. We couldn't even figure out how to organize it. But don't worry: We absolutely cannot contain our excitement that college basketball is starting.
If you were to ask us to rank our personal favorite sports, college basketball would be a distant second to baseball; we are definitely that person who stays up until 1:30 a.m. to watch Idaho State play. Our love for the game is summed up quite well by Card Chronicle.
I embrace second chances and truly believe that people can change for better or worse, so the fact that two weeks into the season, regardless of performance, every team will have each of its major goals in tact speaks to me. If you've worked as hard as you possibly can and learned as much as you possibly can for five months, then you deserve the opportunity to play until you lose come March.

Obtaining the sport's top prize is extremely unlikely for the vast majority of the 308 Division I teams eligible for postseason play, but thank God it's not impossible. Thank God the bottom-tier RPI school that won its conference tournament gets the chance to prove itself on the sport's biggest stage, and not inside a quarter-full stadium against a team that doesn't really want to be there, in a game that, for all intents and purposes, has absolutely zero significance. Thank God when George Mason beat Michigan State in 2005 that wasn't the way its season ended.

Indeed there will be triumphs this year, but as always the failures will far outnumber the successes. There will be literally hundreds of press conferences where teary-eyed twenty-somethings will be forced to sit at a table, answer questions, and come face-to-face with the realization that a goal they dedicated a large chunk of their lives towards will not be obtained. It's heartrending, but it's also - and there's no reason to even attempt to muzzle the dramatics at this point - beautiful.
Yep, it's here: Go to Basketball Prospectus for all your previewing needs, and for cripes sake, enjoy.