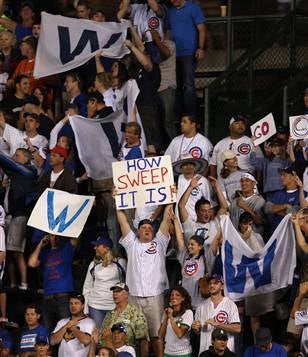 Now that's what I'm talking about. This is how you do a rivalry, people. North Side vs. South Side, Ozzie vs. Lou. Plenty of trash talk. Copious amounts of Ryan Dempster. Let's get it on! When Round 1 was over on Sunday the Cubs had done it; swept the White Sox in the Friendly Confines. Round 2 coming up this weekend at U.S. Cellular, where the fans I'm sure will have something creative in store. Rarely is baseball this much fun.
Dempster is now 9-0 at home — he must like the smell, or maybe it's the rats — and Aramis Ramirez hit his fourth home run over the past three games as the Cubs beat the White Sox 7-1 on Sunday night. It was the Cubs' 14th straight home victory to improve their record at Wrigley to 32-8. They're 48-28 overall; best in the majors. The Sox aren't doing too shabbily themselves, by the way; at 41-34 they lead the Central by 1 1/2 games ahead of the Twins. Eric Patterson had his first major league homer, a two-run shot in the fifth to give the Cubs a 4-0 lead. White Sox catcher A.J. Pierzynski, who on Saturday told Sun-Times columnist Rick Telander that Cubs fans are ''idiots,'' was 0-for-4 on Sunday.
• If Jerry Could Just Keep His Mouth Shut ... Ken Oberkfell will be manager of the Mets before we know it. Jerry Manuel calling Mets' fans "fertilizer" isn't going to win friends, or any votes to keep him on after his interim status expires. New York has won three of four, however, after Sunday's 3-1 victory over the Rockies in Denver. Carlos Beltran had a two-run homer.
• Mark It. Mark Teixeira must really like the orange unis — which is more than I can say for myself — as his three homers led the Braves to an 8-3 win over the Mariners. Two of his homers were from the left side. Chipper Jones (.393) sat out with a strained right quadriceps.
• Epic Fail. Speaking of unis, take a look at these sweet, sweet duds. The Royals and Giants were honoring Negro League baseball with the throwbacks, and San Francisco indeed threw one back, blowing a 10-3 lead to lose, 11-10. Mike Aviles had a double and three RBI for Kansas City, who won in a mere three hours, 59 minutes.
• Wizard Cat Defensive Player Of The Day. Eddie Richardson. Despite being only eight years old, Richardson can really flash the leather in a backyard game of catch, but most importantly can name every player in the Major Leagues, by position. Color Wizard Cat impressed. Wizard Cat gives this kid: Five wands.
Contact Wizard Cat at wizardcat@live.com