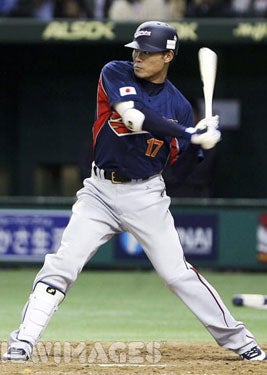 As the baseball offseason enters its sixth day, it's already time to begin looking at our latest Japanese imports. In this case, it's another Hideki Matsui-type player, Kosuke Fukudome. Pronunciation could get a little dangerous. It's either co-SOO-kay FOO-coo-DOUGH-may or kuh-SUCK-ee FUCK-a-DOME.
Silly name aside, he seems like a valuable commodity for any team in need of a left-handed power-hitting outfielder. If/when he signs with an MLB team, he should make about $10 million a year, which is ... okay, I'm kidding. I can't put get past that name.
We silly pig-dog Americans may laugh and slap knees on the name "Kosuke Fukudome," but you have to wonder who among our ballplayers have names which, when translated to Japanese, are downright goofy. I'm sure Josh Beckett is Japanese for "one who poorly juggles fetuses in his spare time." And with our luck, Dmitri Young translates to "peaceful are the tides."
Getting To Know You: Kosuke Fukudome [UmpBump]
Fuk Me? No, Fukudome! [The Nationals Enquirer]