Longtime sports blog aficionados will remember the weekly Sunday Afternoon Smorgasbord, a real-time account of a full Sunday of NFL action by the great Mighty MJD. We are humbled and honored to welcome it back to the Internets, on our little site here, starting today. Take it away, MJD.
Hello, and welcome to the Sunday Afternoon Smorgasbord. If you aren't familiar with the concept, it's a collection of the highlights and lowlights of my day spent at a local sports bar, watching more football than any person should ever watch at one time. If you'd like, you can check out previous years of the Smorgasbord here and get a feel for things.
• About a year ago, this bar added on another huge room ... partly because it was getting too busy, and partly because they wanted to separate the Giants, Eagles and Redskins fans from the rest of the normal, decent people. This new room is where we are today. The good news: There are more TVs. The bad news: There are also more assholes.
• The pregame shows are on, but I can't hear a fucking thing over the parade of Neanderthals in Shockey jerseys.
• Dan Dierdorf lists as one of the keys to the Redskins/Dolphins game, "CAMPBELL: WILL HE BE MMM, MMM, GOOD?" I've never before seen a quarterback judged on his taste, and I applaud Dan Dierdorf for taking this bold step as a journalist.
G/O Media may get a commission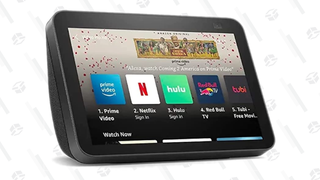 • There are eight different games I can see ... but my neck and eyes are not in game shape. It's been 7 or 8 months since I've attempted this. I can't make sense of anything that's happening yet. I think there's a reason people don't typically watch eight TVs at one time.
• The Redskins force a quick three-and-out from the Dolphins. Clinton Portis carries a couple of times ... on the third play of the drive, Jason Campbell drops back, throws, and is intercepted. It's easy to criticize, but I think I'd be a little shaken, too, if Dan Dierdorf had just wondered aloud what I taste like.
• The Browns punt ... sort of. The punter dropped the snap, was chased and shanked it about 15 yards out of bounds. And if that wasn't bad enough, there was a penalty on the play — check that — four penalties on the play. In the course of one 15-yard punt, the Browns racked a holding call, an illegal formation, another holding call and an ineligible downfield kick. In situations like this, the official should have the liberty to tack on an extra 15-yard personal foul, for being an NFL team, and still being that fucking bad.
• The Joey Harrington era has gotten underway in Minnesota ... and Joey is 1-for-1. This is going to go well, I can feel it.
• Denver runs a little bit of option against Buffalo ... That's the way to play into Jay Cutler's strengths. It actually goes for about 25 yards. Element of surprise, I guess.
• Magnificent tippy-toe catch in the back of the endzone from Hines Ward ... Roethlisberger threw it off his back foot, put it right in the corner, and Hines did what Hines does. That was beautiful.
• Joey Harrington drops back again ... and he's 2-for-2. Joey Harrington is on FIRE, and the canine population of Atlanta rejoices.
• It's strange to see Joey Porter in a different uniform ... especially one as fruity as the Dolphins'. I think the colorful new look suits him, though. He looks mmmm, mmmm, good.
• Joey Harrington drops back again ... and he just threw an interception to a big fat guy in purple, who then rumbled 54 yards into the endzone. The Joey Harrington era looked so good for about five minutes there.
• You may already know this, but Charlie Frye is fucking awful. If you were hoping to gauge how good Mike Tomlin's new defensive scheme would be, today, I'm afraid that's going to be impossible, because the Steelers are playing 4th graders.
• A Browns coach is on the sidelines, his hand with three fingers pointing towards the ground, waving feverishly, trying to get someone's attention. Because I've spent the offseason learning coaches sideline signals, I can tell you that this is the universal NFL signal for "FINGER HIM!" If they get a sack on Ben Roethlisberger, look for him to be violated with three of a defensive lineman's digits.
• Brett Favre appears to be disgusted with himself, and unbuckles his chinstrap ... but he does so with such force that he unbuckles it from both sides, and pulls it completely off. I suspect steroids.
• The Greek (none of my friends want to go by their real names, probably because they're afraid their douchebag, assfuck bosses would read this and get mad at them) thinks that the guy in the Lipitor commercials looks like the assassin with the car bomb from Scarface. His wife thinks it is him. Hold on, I'm gonna check IMDB real quick ... nope, nowhere in the cast of Scarface is Dr. Robert Jarvik, inventor of the Jarvik Artificial Heart, listed. I'm glad we got that cleared up.
• Redskins tackle Jon Jansen just got his ankle pinned under some other guy, and he's in an extreme amount of pain. On the plus side, though, hey, free cart ride.
• It's already 17-0 Steelers in the first quarter ... and they really haven't even had to earn it. Their average starting field position is about the Browns 35. Santonio Holmes just beat the coverage deep down the middle ... if they're not going to play Brady Quinn at quarterback, let's at least see if he can help out at corner.
• And apparently they're not going to play Brady Quinn at quarterback ... Charlie Frye is getting yanked, but it's Derek Anderson who's warming up.
• Four seconds left in the first half, the Dolphins have a 3rd and 1 at the Redskins goal line. This will be their last play of the half, and Cam Cameron's going to gamble and go for the TD. Trent Green throws across his body and finds tight end Justin Peelle in the endzone. Big balls, Cam Cameron.
• CBS is currently showing a graphic listing the five different offensive coordinators that Charlie Frye has had in the last five years ... because, you know, that's the reason that Charlie Frye sucks. At least he'll be used to it when he has a different offensive coordinator next year in the Canadian league.
• And just in case this needed to be said, Derek Anderson is also fucking terrible. Even when he isn't under pressure, he's just throwing the ball yards away from where it should be. It makes absolutely no sense that an NFL team can't find a quarterback better than either of these two fucks.
• Ellis Hobbs returns a kick 108 yards against the Jets, making life more difficult for every special teams coach in the country who wants his kick returner to take a knee when the ball is eight yards deep in the endzone.
• Some guy, and I don't know who it is at the moment, is down in the Buffalo/Denver game ... They've taken his facemask off, they've got an ambulance on the field, and E claims to have seen the guy twitching ... which doesn't sound good. Let's hope for the best. Meanwhile, CBS keeps zooming in on the face of the guy who was involved in the collision with him, as if it's his fault ... the guy may have just accidentally paralyzed another man, but let's make sure we get a good shot of him in his lowest moment.
• Ben Roethlisberger is 6-of-16, and has a 17-0 lead over Cleveland. That's how good Cleveland is.
• I've kinda stopped watching the Vikings/Falcons game since Joey Harrington's fortunes turned, so I don't really know how Tavaris Jackson is playing ... but he just pulled off one of the all-time great get-rid-of-the-ball moves. A guy had him wrapped up, and he tried to twist out of it, but couldn't, and as the guy continued to yank him to the ground, Tavaris heaved the ball out of bounds like people throw grenades in old war movies. For all I know, that's been his best throw of the day ... it wouldn't shock me.
Ted Ginn Jr. has three punt returns for a grand total of 13 yards. I'm not implying that the Dolphins wasted a draft pick, but the Dolphins probably wasted a draft pick.
• There's a guy here with a Bills Roscoe Parrish jersey on, but he's got his own name duct taped over Parrish's name. I have no explanation ... if Roscoe Parrish wasn't a Bill anymore, I could maybe understand. There used to be a guy here who had a Saints Ricky Williams jersey, but he duct taped over the #34, and over "WILLIAMS" on the back and wrote "McALLISTER" in Sharpie ... at least that guy was making a "Fuck You" statement to Ricky Williams. This guy ... no fucking idea what he's doing.
• There's a waitress here — she's not our waitress, so I just noticed — but she's got on a tiny little pair of shorts that are pushed down so far that I believe I can make out a little bit of muff stubble. The Greek comments, "If I wore shorts that low, you'd see a forest of pubic hair." We'll see if we can get a picture for you next week.
• Randy Moss gets loose in the Jets secondary for a 51-yard touchdown ... he wasn't that loose, really, there were three defenders chasing him, but none of them were fast enough to catch him, and Tom Brady fires off the football with the same quickness and accuracy that he fires off sperm. TD Pats.
• Greg Gumbel's update on Jason Campbell: 21.2 QB rating on the day. Dan Dierdorf's update on Jason Campbell: A little salty, but not bad.
• Brett Favre makes one of those Brett Favre plays, where he appears to be dead, engulfed in the arms of a giant defensive lineman, and he just flips the ball to a running back, when then goes 20 yards for a first down. It's a great play ... I don't know why Brett Favre is the only person capable of things like that.
• The last four passes that Derek Anderson has thrown have either bounced off of Steelers, or just missed them by inches. The Browns would be better off if Anderson just dropped back and spiked the ball every time ... hell, why even risk that? Just punt on first down.
• This Falcons/Vikings game is about to come to an end, with the Falcons having never even gotten to inside the red zone. I wonder if Bobby Petrino will be on the phone today trying to get the charges against Michael Vick reduced to a misdemeanor.
• The Redskins, much like the poor gentleman on the side of their helmet to whom they are paying "tribute," got fucked. The Dolphins are going to get the ball around the 10-yard line with a chance to take the lead because of a pass interference call on a pass that was nowhere near being catchable.
• A couple of close, but low-quality football games are nearing their conclusion ... both Green Bay/Philadelphia and Washington/Miami are looking like overtime possibilities.
• CBS gives us about a minute straight of Brady Quinn holding a clipboard ... I think a CBS executive producer is sitting in a truck somewhere right now, pissed off at Romeo Crennel, and screaming, "FINE, ASSHOLE. If you won't play Brady Quinn, we'll just show him standings on the sidelines doing nothing. THERE." And that's exactly what they're doing ... I think there are even plays going on at the same time. I give CBS credit for their dedication towards serving the gay demographic.
• We almost had a crazy end to the Redskins/Dolphins game ... Jason Campbell tossed a hail mary (should I capitalize that? sorry, Mary) — excuse me - a Hail Mary - about 60 yards down the field, and a Dolphins defender decided to not knock it down, but to set it, as if he's expecting Misty May or Kerri Walsh to show up and spike it. Santana Moss ends up catching it, and nearly gets into the endzone. We were about one yard away from avoiding overtime there.
• The Eagles have a guy named "Gocong." You think there are any crazy old war veterans in the stands who think he's a Viet Cong sympathizer?
• I hadn't been paying much attention to the Bills/Broncos game, but the end was awesome ... Jason Elam and the special teams unit had to sprint onto the field, with the clock winding down in an effort to get off a last-second field goal attempt ... they get it snapped with about one second left, and Elam boots it through. Huge balls on that guy.
• Nearly simultaneously, the Packers and Redskins kick game-winning field goals. I'm not sorry to see either of those games end.
• A bunch of Redskins fans break out in a Redskins fight song of some kind, and when they finish, The Greek yells, "All right, that's great, now everyone get the fuck out." And as they parade by, he's clapping and yelling at them, "Congratulations, you just beat the worst team in the AFC in overtime, that's great." One guy starts to retort and says, "Hey, you know what..." and then he just changes his mind and keeps walking. I'd like to think that he started that sentence, and halfway through thought to himself, "Yeah, you know, the Dolphins probably do fucking suck," and decided to stay quiet. Much more likely, though, is that he just couldn't think of anything to say.
• Dear God, Randy Moss had nine catches for 183 yards ... that's not good news for anyone else in the AFC.
• I guess we're going to be watching a little bit of the US Open tennis final along with the light and mostly brutal schedule of 4 o'clock games. Lucille #2 is performing before the match ... and no, I'm not making that up. She appears to be recovering very well from her vertigo.
• Ouch ... Rex Grossman just got fucked up. Shaun Phillips smothered him ... and he didn't even come from Rex's blindside. Rex's head was turned that way, and he still didn't see him coming. Sometimes, I think he's not a tremendously aware quarterback.
• Jeff Garcia has the Tampa Bay offense looking not too terrible. I don't think he's thrown a pass longer than fouryards yet, but ... it's working. They're moving the ball against the Seahawks.
• You know, when there are only three games on, and no one's scoring in any of them (we're well into the 2nd quarter in each of these games, and we have a grand total of two field goals, both courtesy of Tampa Bay) ... a good tennis match is nice to have around.
• Oooooh ... it's a rare Mike Williams sighting. I'm sure he'd like to come out today and have a huge game against his old team, the Lions. And he probably would, too, if he had any sort of aptitude for playing football.
• Hey, great news ... there's a new sitcom coming on FOX starring Kelsey Grammer. I can't even picture him playing someone other than Frasier Crane ... he's permanently typecast there, isn't he? It's almost like FOX asked that little green guy who played Yoda in the Star Wars movies to play an out-of-work electrician named Elroy in a new sitcom. I just can't see it.
• I get closer to suicide every time I see Norv Turner's face. I'm not saying I'm close, I'm still a relatively happy guy ... but if he stays around for three or four years, I don't know what kind of toll this is going to take on me.
• The Raiders defense is apparently giving Mike Furrey a 20-yard cushion in all directions. I think that's a wise move by the new coaching staff.
• Novak Djokovic was up a break on Federer, 6-5 in the first ... serving for the match at 40-0, and he blew it. First set to Federer, 7-6, I think that just about ends our match here today.
• Meanwhile, LaDainian Tomlinson has carried nine times for one yard. Ladies and gentlemen, offensive genius, Norv Turner.
• Between tennis and ogling waitresses, I've somehow missed a Lions scoring run ... Calvin Johnson catches a Jon Kitna pass and puts them ahead, 17-0.
• The Juice (again, he prefers that I not use his real name) has pointed out that the Captain's Cs on every team's jersey are all in the same font ... as opposed to previous years, when the Cs were done individually in each team's own font of choice. I break the news to him that no team wore Captain's Cs before this year. He is flummoxed ... but I love the imagination on that guy.
• The Chargers have the ball at the Bears goal line and are about to take the lead ... when the refs spontaneously decide that it's perfectly legal for Tommie Harris to jump four feet offsides before the ball is snapped ... despite what the replay shows, it looks like the Chargers are going to end up taking the high hard one here. Philip Rivers is screaming at a referee, which I like ... but I think he just used the word "bullcrap," and I'm sorry, I just can't side with a man who uses the word "bullcrap."
• A guy at the table next to me is boring the fuck out of some girl with stories about his motorcycle. I'd swoop in, but I figure that motorcycle stories probably beat sports blogging stories.
• Oh, thank you, karma ... the Chargers get a lucky break when Mike Scifres gets off a terrible, terrible punt ... a punt so terrible that the Bears upback lost track of it, and it bounced off of him, allowing the Chargers to pounce on the ball and recover. The universe has a way of evening things out.
• And LaDainian Tomlinson proves himself to be the best quarterback on the field today, hitting Antonio Gates for a touchdown ... that makes it 7-3 Chargers.
• Meanwhile, the Raiders have battled back to pull within three points, at 17-14. CBS has a special "Black Hole Cam," which is nice for the viewers at home who don't usually get a chance to see the lowest forms of human life. Watching this, I feel much like I do when I'm at the zoo, watching monkeys giggle while throwing shit at each other.
• The Juice is claiming that he can accurately gauge women's vaginal tightness by looking at certain other physical attributes ... I lack this gift. Someday, I'm going to have to get him to explain the system to me.
• Hey, the Raiders took the lead ... I think they could already consider this season more of a success than last year's.
• The Bears, now trailing 14-3, have a 4th and 1 to keep the drive and their hopes alive ... they give to Cedric Benson up the middle, and he's just going to have to settle for licking Jamal Williams' balls. That's going to just about do it for an ugly, ugly, Chargers/Bears game ... it was played pretty evenly, but turned on a couple of Bears turnovers.
• Also of note: it's the lowest amount of rushing yards that LaDainian Tomlinson has ever had at home. Ladies and gentlemen, once again, offensive mastermind ... Norv Turner.
• The Buccaneers, to whom I've totally stopped paying attention, trail now by 14 ... and some guy, as he's running towards the Seahawks 10, fumbles ... and that should just about end that one.
• Josh McCown, with the Raiders now down five, throws an interception to a defensive linemen ... and that should just about end that one, too.
• Wait, just one second ... the Raiders hold the Lions to a field goal, and trail by just 8 ... so they'll have a chance to tie it up. First play of the drive, McCown drops back ... is crushed, fumbles, and yes, now we're done here. Until next week.