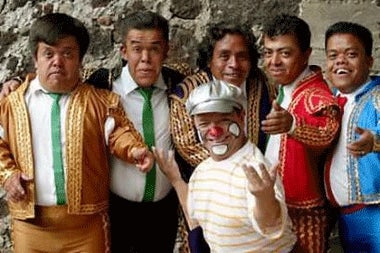 When you say that USA Today doesn't bring the serious, in-depth news coverage, I counter with this recent headline: Mexican Dwarfs Seek Respect In Bullfighting. I accept your apology. Seriously, how could your day not turn out great when it starts with that headline in your e-mail inbox?
It's a spectacle repeated on weekends across Mexico as troupes of dwarf bullfighters thrill audiences at fairs, patron-saint festivals and nightclubs. Some of the troupes tour the USA, where they bring a taste of home to Mexican migrants from Oregon to Florida. Competition among the troupes is so intense that many have added other attractions: The Bullfighting Dwarfs of Torreón jump through burning hoops on all-terrain vehicles, while a group from Guadalajara sings and does impersonations.
This gets our stamp of approval because A.) Unlike traditional bullfights, the animals are not harmed. Calves are used instead of full-size bulls. And B.) I am a big admirer of the movie Time Bandits.
For those who say that this may be denigrating, have you ever seen normal size bullfighting? Ask a bull about that.
Mexican Dwarfs Seek Respect In Bullfighting [USA Today]