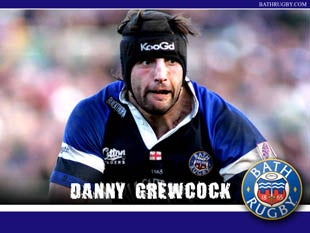 If there's anything we've learned from the Johnny Cash song A Boy Named Sue, it's that an embarrassing name makes you a lot tougher. A case in point seems to be England rugby player Danny Grewcock, who has roamed from town to town to hide his shame.
Danny Grewcock's chances of making England's World Cup squad appear remote after he was banned from all rugby from 4 August to 15 September. He was suspended for punching Clermont Auvergne's Thibault Privat in the European Challenge Cup final on 19 May.
Other Grewcock crimes and misdemeanors:
• Jan., 2007: One-week ban for stamping on Sale flanker Nathan Bonner-Evans.
• July, 2004: Six-week ban for reckless use of the boot against New Zealand.
• May, 2003: Two-week ban for punching Lawrence Dallaglio in Parker Pen final.
• Sep., 2002: Five-week ban after being sent off for stamping on Kyran Bracken in club game.
But Mr. Grewcock also has his staunch supporters, among them Cameron Diaz. Yep.
A fellow guest revealed to the Sunday Telegraph newspaper: "Grewcock was at the hotel with the England squad, as they train nearby, and every time Diaz saw him she shouted: 'Go England, go!' I'm not actually sure if she wasn't more enthusiastic about Grewcock than the game, but he would always refer to her as the team 'mascot' and said he believed she would bring them good luck."
Well, at least his name is less embarrassing than that of former Diaz love interest Reginald Bum-Dickletickler.
Grewcock Ban Hits World Cup Hopes [BBC Sport]
Rugby Fan Diaz [AskMen]