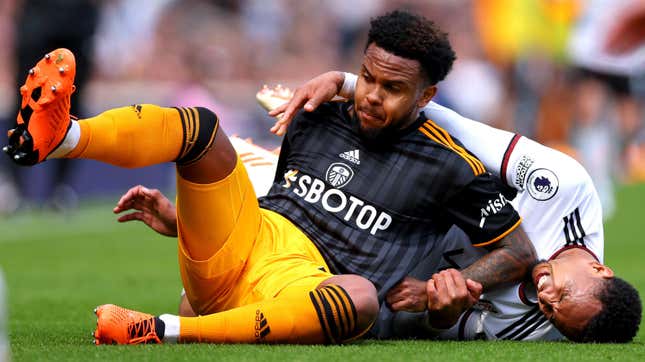 Soccer moves fast, and it moves faster in the January transfer window. All the things Weston McKennie had to consider when a move to Leeds United from Juventus was probably thrown at him in a matter of days, if not hours. Questions of role, money, future, and the allure of moving to a country where he already speaks the language all would have played a role, and he only had a limited time to figure it all out considering he moved the day before the deadline. It was life on fast forward.
Can Liverpool Win The Quadruple? | What You Need To Know | FA Cup
To boot, he was moving to a club where he knew the manager and would have been fairly confident that Jesse Marsch not only would play him regularly, but play him in his preferred spot, as a No. 8 in a 4-3-3 where he could run around a lot and get into the box and get scoring chances.
Less than a week later, Marsch was out on his ass, and McKennie's stay at Leeds and overall career are looking a little spotty. Even spottier is Leeds's future, because they look like dead men walking on their way to relegation. They're only out of the bottom three by one point, and their next two games are away to Man City, and home to Newcastle. They have one draw and four losses in their last five games and have won two of their last eight. The cumulative score of their last five games? 18-5. But hey, at least they scored in each of them!
As Marsch found out, when you're American and things aren't going well you become a pretty easy and obvious target for fans and media alike. At least McKennie hasn't been spouting nonsensical and self-celebratory shit in the press like his former (and future?) manager which only made him easier to pillory. But McKennie's stay in the Premier League has been rough.
No goals and no assists for a midfielder whose main strength is how he joins the attack.
FotMob.com, a leading player-rater site, has McKennie at an average 6.4 rating for his 15 appearances in England, which is the definition of mediocre. He's seen his shots-on-target per 90 minutes go from 0.68 at Juventus to 0.08 in Leeds. His pass completion percentage has dropped five percentage points. Perhaps worse yet, he's getting walked in midfield a lot, losing two-thirds of his duels (per FBref.com). And he's not the attacking force he was in both Italy and Germany with Schalke, as his progressive carries per match have been cut in half in West Yorkshire (also per FBRef.com). He has a 0.00 carries into the penalty area rate.
Circumstances have not helped. Javi Gracia, since he took over for Marsch, has used McKennie far deeper than anyone else has, playing as part of a double-pivot in a 4-2-3-1, especially since Tyler Adams got hurt. It is not McKennie's strength.
And he's actually done all right there, considering that he's never been a great passer or totally clued in positionally. He's rarely if ever been asked to do these things because he's not good at them, which is why Juventus stationed him on the right of a narrow 4-4-2 most of the time. His tackles and interception numbers are way up, but they kind of have to be considering his position on the field. You'll run into a lot of tackles in the center of midfield, especially when you're playing for Leeds and they don't have the ball much, simply by accident.
But when Leeds have been torn apart right through the middle, as they have been by Crystal Palace or Liverpool, or Bournemouth, McKennie has faced a lot of arrows (go on Twitter, search McKennie, and find out in a hurry what Leeds fans think of his physique). He's simply not equipped to handle that position, because he's not much of a dribbler to get out of tight spaces, he's not much of a passer to orchestrate attacks, and he just doesn't have much experience deep in midfield to know where to be to stifle attacks against. He'll lose control there.
McKennie is hurt by the disorganization of Leeds. They clearly didn't have a plan when they fired Marsch, which has led them to possibly being on the brink of firing his replacement with four games to go. They don't have a striker worth a damn that McKennie can link to or get lost in the wake of as his specialty. They look psychologically broken.
What's worrying for USMNT fans is that two nailed-on starters (McKennie and Adams) and one big contributor (Brenden Aaronson) look pretty likely to be playing in the English Championship in the season leading into Copa America, where the national team will be hoping to make serious noise to create momentum, and buzz for the World Cup two years later on home soil.
As previously written in these halls a couple times, McKennie is a very weird player. He's a midfielder who can't really pass, dribble, or tackle. He just…scores goals, but that skill is so valuable a team can't really live without it. But he needs so much around him to really flourish, which Leeds have exactly none of with Adams out. Unless the new USMNT manager is Marsch (and it probably will be), a new national team manager might consider whether they need a midfielder in the starting lineup who can pass, seeing as how Adams and Yunus Musah don't really either.
There have been a lot of circumstances going against McKennie in the past three years of his career. He was bought by Juve with Andrea Pirlo in charge. He was fired before the end of his first season. Juventus were already in decline when he showed up and that only sped up after his arrival, which came with a flux of systems and ideas, and positions for him. He was brought to England by Marsch, and he was gone in six days, which again meant a new manager and system, and position. This happens in soccer. McKennie can either adapt his game or find a place where he can do what he does well regularly. None of that appears to be happening at Leeds.
Follow Sam on Twitter @Felsgate as he becomes the leading member of the de la Torre in the USMNT starting 11 fan club.