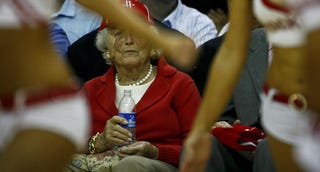 Got an image you'd like to see in here first thing in the morning? Send it to tips@deadspin.com. Subject: Morning crap
In an effort to keep up their public profiles and convince the world they're not awful people, former First Lady Barbara Bush and her husband, First George, popped by the Rockets/Hornets last night to present a check to New Orleans for hurricane shutters or something. Barbara looks sharp in her hat and giant face bandage as she gazes longingly at the bulbous backsides of the Houston Rockets dance team (has to be the Rockettes, right?) and thinks of those days, just 95 years ago, when she was able to squeeze into an outfit like that.
Good morning. It's Tuesday. Rivers opening for the righteous. Come in.