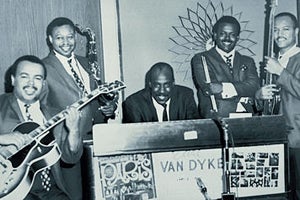 I'm busy watching "Standing in the Shadows of Motown" on IFC. For those of you in the dark, it's a kick-ass 2002 documentary about the Funk Brothers, an unheralded group of Detroit musicians who are basically the greatest hit machine in the history of popular music. It's fantastic. But, hey, let's pretend I'm watching college football anyway. To the Nedyessy... and you!
Am I wrong or is Ohio State's win over 3-6 Washington the Big Ten's best non-conference win this year? How is this not major news considering Ohio State is trying to claim it belongs in the national championship game? — cjbrownb
In a BWWs to watch the Iowa game (because fuck Comcast for not carrying the BTN), I had a TV all tuned, my beer and my wireless internet (Yes, BWWs has wireless. It's like Panera, only with beer and it doesn't block Deadspin). Until these 3 asshole Michigan State fans come in and get my big screen turned to MSU/Purdue. When I exclaimed over the change and the fact that I was there first, they responded "Iowa sucks." To which I said, "Well, we beat you two weeks ago." and one of them actually said, "Fuck you, Iowa bitch." Lovely. — Lady Andrea
If you're Wisconsin, do you take as a good thing or a bad thing that Michigan doesn't care whether they beat you or not? — tylerisgod316
Parity has gone too far. ESPN just interrupted the Wisconsin/Michigan game to show highlights of the Williams/Amherst score. WTF? — Brian in Boston
I love it when announcers talk about Michigan talking about possibly getting "exotic" offensively when Lloyd Carr's play-calling never goes beyond anything akin to missionary: mostly penetration up the middle. — Signal to Noise
I'm at the UM - UW game and the only other Michigan fan near me is a 70 yr old lady. And my fiancee is a UW grad. I might not live through the day. Its been nice knowing you Skeets. — goathair
Josh Mcneil gets fired up after a successful QB sneak on 4th and 1. keeping that clock running means less time till the postgame orgy! — maknite25
Floyd of Rosedale, Illibuck, Little Brown Jug, Paul Bunyon's Axe ... man, Fat Midwestern People sure love stupid bronze trophies... — scumdog0331
If were judging based on the Michigan fans used for their starting lineups, I would have to say that Michigan fans are pretty ugly. And I'm a straight woman here! — Rodeo Queen

Send your NCAA goods to the AOL Instant Message screenname: NCAA Deadspin. A thank you.