Kirk Cousins is a flawed quarterback having a good season. He's also due for a new contract next year, and he has Washington by the balls.

Cousins ranks in the top six among quarterbacks in completions (299), passing yards (3,540), quarterback rating (101.4), Total QBR (74.2), yards per attempt (8.1), adjusted net yards per attempt (7.80), and completion percentage (68.4). In fact, Cousins is on pace to throw for 5,149 yards, which is something only Peyton Manning, Tom Brady, and Drew Brees have done. Come to think of it, Cousins has been excellent!
But—and you were just waiting on that "but," weren't you?—with Washington having to decide whether to give Cousins a pricey-ass long-term deal, there are still some red flags to consider. Let's get to your questions.
Dude's putting up some huge numbers. So, like, what are those red flags?
Robert Mays of The Ringer and Cian Fahey of Football Outsiders covered a lot of this ground last week, and you should check out their analyses. But the Cliff's Notes version is that Cousins has one of the best supporting casts in the league: Washington's offensive line ranks third in adjusted sack rate, and DeSean Jackson, Pierre Garçon, Jamison Crowder, and Jordan Reed represent one of the most talented and diverse pass-catching units out there. But while Cousins has consistently moved the Skins up and down the field—Washington ranks first in yards per drive—he has been dreadful in the red zone: Washington ranks 29th in TDs per red zone trip, and 30th in points per red zone trip.
G/O Media may get a commission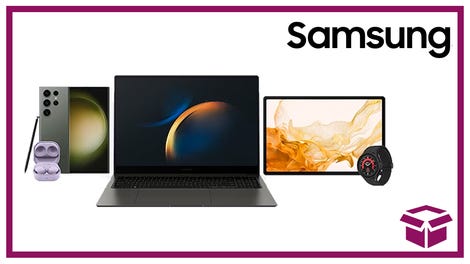 24 hour deals
Discover Samsung - Daily Deal
That's a lot of points to leave out there.
It is! And Cousins is just 28-for-63 (44.4 percent) in the red zone, including 9-for-31 (29 percent) inside the 10-yard line. That's not good.
Was he always this bad in the red zone? I feel like he was better in 2015. But you're the answer person.
He was better last season. Cousins completed 63 percent of his red-zone passes last year, and 64.1 percent inside the 10. And Washington's red-zone efficiency (61.2 percent) ranked eighth-best. But red-zone efficiency can fluctuate from year-to-year—Ryan Fitzpatrick's Jets had the NFL's third-best red-zone offense last season and are dead last this time around. But as Mays and Fahey point out in greater detail, Cousins has made a lot of poor decisions and shown little ability to improvise in the red zone this year. He's only thrown two red-zone interceptions, but he's also done a lot of this:
Is that the only problem?
Well, Cousins is also only 26 months removed from having been benched for Colt McCoy. But he has made 27 uninterrupted starts since the beginning of last season, going 15-11-1 and winning a division title.
And Washington chose not to give him a contract this past offseason, right?
Right! Boy, you came prepared.
Thanks. But why wouldn't last season and this season be enough of a sample size for the Skins to just go ahead and do a deal with him?
Now we're talking. Because Cousins is a quarterback—
No shit.
Let me finish.
OK.
Cousins is a quarterback, and the going rate for quarterbacks toward the top end of the pay scale these days is pretty steep. Eleven quarterbacks have deals with an average annual value of more than $20 million. Cousins did indeed have a relatively small sample size heading into this season, so Washington placed the franchise tag on him, which obligated the Skins to pay him $19.953 million for one year. Essentially, both sides were gambling. Cousins was forced to bet on himself; the tag took away his bargaining position and required him to sign it or to hold out. His best hope was that a good-to-great year would warrant a big payday. And Washington hedged by ponying up close to $20 million, but it maintained the opportunity to walk away if Cousins wound up stinking up the joint.
So now what?
GM Scot McCloughan has three options. He can sign Cousins to a long-term deal. But the value of that depends on the market, and Andrew Luck's recent contract, which maxes out at five years, $122 million ($24.4 million in AAV), including $87 million in injury guarantees and $47 million in total guarantees, has set the going rate pretty high. McCloughan could also franchise Cousins again, which would mean one year at anywhere from $21 million to $24 million, with that figure as a baseline for any negotiations toward something longer. There are even conflicting reports (here and here) already out there about whether the Skins will use the tag on Cousins again. Or McCloughan could roll the dice on someone new, but replacing Cousins with, say, Brian Hoyer or an old, broken-down Tony Romo or Jay Cutler might be a tough sell.
Wait. Cousins could command Andrew Luck money? Really?
Close enough. Joel Corry is a former agent who is now a contract and cap expert for CBS. Joel knows his shit, and here's what he said on a D.C. radio show this week: "Everyone's going to choke on the number, where it's gonna come in. He's gonna be one of the five highest-paid players in the NFL." The way things work, each new contract at a given position sets the market for the next contract. Plus, as Corry also said, Washington just gave Josh Norman—a cornerback—$36.5 million in guarantees. And Von Miller got $40 million guaranteed from the Broncos. All of that is stuff Cousins's agent can bring to the bargaining table. Remember: Quarterback is a premium position in the NFL. And this is a league in which the demand for good quarterbacks far outweighs the supply. Also, next year's draft class for quarterbacks is considered to be pretty thin. Cousins has all the leverage here.
That's a lot of money, though.
It is, but Washington will have space. The 2017 salary cap, according to some estimates, could be between $165 million to $170 million. Given those numbers, the Skins should have approximately $45 million to $50 million in cap room for 2017. They have the money and the flexibility to retain Cousins; it's just a question of how they want to approach it.
When might any of this happen?
Cousins is playing this season on the tag, so Washington can't do a deal with him until after the season ends. Franchising him again—which can't be done until mid-February—would give the Skins until July 15 of next year to negotiate with Cousins. But they also might not want to wait too long. Derek Carr and Matt Stafford have deals set to expire after 2017, and the Raiders and Lions might respectively want to lock them down during the next offseason. Which, again, could reset the QB market even higher. Which means it could be in Cousins's interests to wait this thing out.
Wow.
Yep.
Wouldn't Washington have been better off signing Cousins last offseason?
In hindsight, sure. But they really had just one season from which to evaluate his performance. And he could have turned out to be Brock Osweiler, who got a shit-ton of money after having made just seven starts. You think the Texans are happy with that deal right now?
Yeesh. Forgot about that one. So, in the end, what can we expect with Cousins?
Barring a situation in which he shits the bed these last five games, he's gonna get paid. And in all likelihood, given the alternatives out there, Washington is going to be the team that pays him. It's just a matter of when and how much.