PORTLAND, Ore.—Here is a story from Swoosh: The Unauthorized Story of Nike, J.B. Strasser and Laurie Becklund's 1993 book about about the company's early days. In 1975, Nelson Farris, Nike's first employee—he still works there, "Chief Storyteller" or some such thing—went to a women's track meet to sell some shoes. He was late, and he and the shoes arrived just as the meet was ending. Some of the girls saw him pull up, said, hey, look, Nike stuff, and tried it on. Then they walked away with the shoes on their feet before Farris could stop them.

At the time, Farris was annoyed about accidentally giving away a bunch of shoes by accident. But in the narrative of the book, at least, this inadvertent medium-to-large bit of retail theft marked the moment when he realized that Nike was making a product people were excited about.
The next two hundred or so pages of the book detail the process of Nike, with the single-minded hustle of a bunch of ants trying to get a stick around a door, slowly figuring out that giving away those shoes wasn't a fuck-up at all. Eventually, Nike's decision-makers came to see it for what it was: the basis of a business and promotional model that would make them the most dominant clothing company on Earth.
---
On Thanksgiving Weekend, at the Rose Quarter in Portland, Nike staged a tribute to itself, its founder, and the fruits of more than 40 years of giving away shit to college sports programs. It was the Phil Knight 80 Invitational, an invitation-only, dual-bracket basketball tournament that featured some of the nation's top programs (Duke, UNC, Michigan State, Oregon, Florida, Gonzaga, UConn), some slightly less prestigious programs (DePaul, Arkansas, Oklahoma, Stanford, Butler, Ohio State) and two local Division I colleges that happened to be both in town and sponsored by Nike (University of Portland, Portland State). It was couched as a celebration of the Nike founder's 80th birthday.
G/O Media may get a commission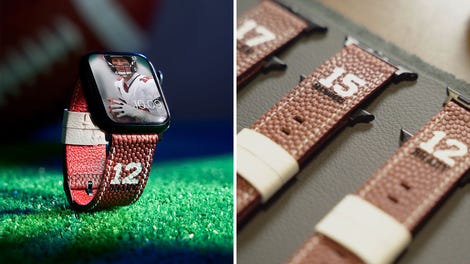 Official NFL PRODUCTS
Official NFL Apple Watch Bands
It was…a little extravagant. Two entire arenas, The Veterans Memorial Coliseum and the Moda Center, were decked out top to bottom in big orange PK80 logos; there was fresh orange wrapping around the outdoor fire fountain and two, TWO, brand new courts adorned with a massive PK80 logo in the middle. These were mopped up by children wearing orange PK80 shirts, using PK80-branded sweat mops. Backlit fiberglass signs stood 10 feet tall along the concourses; merch tables sold exclusive jerseys and sweaters, 35 and 80 bucks apiece, and orange-and-white Art Deco posters for collecting signatures. Nearly every indication that anything BUT the PK80 had ever happened in the arena was blotted out to the best of Nike's ability. The Rip City Slammers, Portland's resident trampoline stunt-dunking squad, were decked out in orange and rebranded "The PK80 Slammers" when they performed at halftime breaks. Even these noble jumping men were not allowed to keep their allegiance to Rip City.
The apparel situation was even more extravagant. Every team sported a special uniform just for the tournament, laced with black in reference to Phil Knight's "Signature Style" of wearing exclusively black all the time. Every player was outfitted with a pair of identical-seeming black basketball sneakers, augmented with a reflective, color shifting Nike logo. Nearly every coach, from the head coaches down to their lowliest assistants, was similarly uniform, sporting black polo shirts embroidered with their program's logo on days one and three, and a color polo on day two of the tournament. Every surface that could possibly be adorned with a Nike swoosh or a Jumpman, whether concrete or flesh, was staked.
If it seems crass to fly in dozens of unpaid college basketball players to celebrate a billionaire's 80th birthday on Thanksgiving, a time when normal people usually try to get together and eat with their families, try to keep in mind that it is at the very least crass in a way that is also a sincere tribute to the company's origins and success. Phil Knight founded Blue Ribbon Sports with Bill Bowerman, the University of Oregon's legendary track coach and an early advocate for the exercise act of "jogging." Blue Ribbon was a precursor to Nike, operating primarily as an import company that imported Tiger brand sneakers, which were constructed with cheaper Japanese labor as a way of undercutting Adidas, the dominant worldwide force in athletic shoes at the time.
In time, with the help of Asian factories and a waffle iron that figures prominently in the company's in-house iconography, Nike would start making its own athletic shoes. This annoyed Tiger, who sued their importer for competing against them, but it ended up working out. Knight and Bowerman shed the Blue Ribbon moniker and made themselves into a full-time athletic manufacturing concern. The company spent the rest of the 1970s growing and growing at an extraordinary rate. Give or take some specifics, you know how it went from there, or at least where it has ended up—with the teams in their new bespoke uniforms playing on these new bespoke courts, for Phil Knight's edification on Phil Knight's birthday.
---
The tournament took place over four days, with sessions one and two on Thursday and Friday, session three on Sunday. There were two brackets, the Victory Bracket and the Motion Bracket, more or less alike in strength, that had been designed to send Duke and UNC to their respective finals. Every team played in every session, the winners moving onto high brackets with prestigious, high-end matchups, losers into lower brackets with grimy, weird ones. (It was the first time DePaul and the University of Portland had played each other since the '60s, for instance.)
The Motion Bracket was indeed conquered by Duke, led by the invariably discomfiting Grayson Allen and Marvin Bagley III, a highly rated NBA-prospect big man with a surprisingly refined offensive game, currently sitting on top of ESPN Insider's mock draft. But Duke's road to the coveted fiberglass letters was rockier than you might expect. After a surprisingly stout showing from Portland State in the opening round—more on them in a minute—they squared off against Texas, and THEIR highly regarded NBA Prospect big Man, Mohamed Bamba.
Bamba is less offensively skilled than Bagley, but one look at the way he floats around the court and his massive gangly frame—he is 7 feet tall with a 7'9" wingspan and a 9'6" standing reach—sets the mind of any modernist basketball freak on fire. Against the number one team in the country, Bamba was inspiring even in a foul-out, keeping Bagley away from the hoop in the post and keeping Duke scared of the paint and at a deficit throughout the contest. Watching Bamba play at length with four fouls, and providing defensive presence simply by dropping back into the paint and sticking his hands in the air was something very near an inspiring tribute to the human spirit. He finally fouled out with 17 seconds left in the second half, which left him to watch from the bench as Bagley banged the shit out of any post defender Texas throw at him and carried Duke to the final. It was unseemly, but not terribly surprising. Ultimately, the NBA will sort these young men out but watching them cross swords in their embryonic states was one of the highlights of the weekend, and a moment when a glimmer of Good Basketball Shit penetrated the event's seamless orange veneer.
That said, it had nothing on the tournament performance of the Portland State University Vikings. PSU is a commuter school that currently does not have an arena of its own; the one they are currently building is notable mostly because its capacity kept shrinking before construction. They were invited to the tournament primarily because they practice like five miles from the PK80 arenas, but they honestly did not seem to give a shit about that all weekend.
I have to confess something, here: I am an NBA writer and NBA enthusiast, and a lot of times the appeal of college basketball is honestly a little lost on me. They're just so much, like, worse at basketball, and also it's just weird that they don't make any money. But watching PSU square off with Duke in the Memorial Coliseum on PK80 Day One very briefly turned me into a believer.
Because, here's the thing: these players are all worse at basketball, for sure. Even the most talented ones are impossibly raw and not even remotely in control of their basketball idiom, yet. But what I had discounted, or maybe not considered, was that the fact that they're worse doesn't always make the game worse. Sometimes dealing with these limited and fucked-up skill sets can free basketball from standard tactics. Lately, I've been watching and fretting over the NBA becoming more and more uniform at its highest levels of competition—so much pick and roll, so many three pointers. College basketball, where you can't quite trust anyone to do anything correctly, will never have this problem.
And so it was that PSU, a Big Sky squad with no realistic hope of toppling Duke, basically went full gonzo, throwing out three guard lineups that spaced the floor, and pressing nonstop, basically daring Duke to beat the with Normal Basketball. Eventually, Duke opted out, went to a 2-3 zone, and sat around while PSU increasingly found themselves unable to get penetration and watched their small lead wilt into the sea. This was not before the refs threw out Vikings senior Deontae North while he sat on the sideline waiting to check in, presumably for telling the refs that they were doing a bad job having sex with their wives.
Portland State wasn't done, though. They drew Butler in the loser's bracket in their next game, where they once again managed to keep the game close enough to have a shot at the buzzer. They did not win that one, either, but in the coveted seventh-place game, they squared off against Stanford and absolutely waxed them in the closing minutes. Stanford looked logy and discouraged and suffused with dread over the coming year of conference play. PSU, on the other hand, a team that gives minutes to a dad-bodded center who was wearing a non-compressing t-shirt under his jersey, played as if they truly didn't give a shit in the best and brightest possible way. They spent the stretch run of the game sinking shots and pressing Stanford up and down the court, squeezing them and into pure exhaustive madness in their third game in four days.
Bryce Canda, a senior guard on the team, played 39 minutes and spent the last drop of those doing pretty much everything he could to unnerve his Stanford equivalent. After the game PSU's coach Barret Peery sounded almost unnerved by the time his senior played: "I played Bryce 39 minutes tonight. And honestly, when I've run this system at two different schools, I was really leery of anybody getting to 30 minutes." Every rule was broken. Honestly, it was fucking inspiring.
---
The Victory Bracket didn't quite go as planned. In the final, Michigan State mowed down North Carolina, 63-45, in what was one of the worst performances in Tar Heels history. North Carolina was stressed out all night and shot an all-time program worst 24.6 percent from the field, beating a previous low that was more than 60 years old.

Roy Williams's postgame press conference was frankly kind of fucking insane, and made me a little worried for the man given how thoroughly he took responsibility for the loss. When asked (not by me) if the team would look at the game or just kind of toss it aside, Williams responded: "I will look at it because of the job I did. I mean how can you play that poorly? Again, give Tom Izzo's club credit… we don't even box out the free throw shooter one time and Miles Bridges tipped the ball and luckily for us it went out of bounds. I will look at myself a million times more than I look at the kids."
This sort of coachy theater isn't unprecedented or even surprising at this time of year, but there was one bit that stuck out. On his way out, unprompted, Williams made one more statement about the tournament at large: "We love being involved and honoring a guy that has done so much for so many different schools and their athletic programs." He wasn't the only coach to compliment Knight and the way he's touched the game. University of Portland Coach Terry Porter, who is already a legend in the city given his distinguished service with the Blazers, at least needed to be prompted to talk about how his squad has a test-school relationship with Nike. He was vociferous in his praise for the company and their commercial arrangement. Fellow Portland basketball icon Bill Walton took time while broadcasting the games to praise Knight and his shitty autobiography all weekend in his usual is-or-isn't-this-some-sort-of-deadpan-critique tone. One lady I saw, sitting on the baseline, held a little sign that said "HAPPY BIRTHDAY PHIL." It looked like she'd made it herself.
She was not alone in her apparently earnest eagerness to salute The Chairman. Phil Himself posted up courtside at some of these games, most notably during the finals and the Oregon contests, and when the arena's cameras found him—always in head to toe black and inexorably goateed, his hair getting to be a particularly odd color in his older age, sheepishly smiling in a building that was drowning in his name—he always received a hearty round of applause.
I will tell you here that I had some trouble with this. Knight is certainly an Oregonian of note, and his success is what it is, but this also seemed like a bit much—the man makes billions, hosts a basketball bacchanal for his birthday and names it after himself, makes even more money off all that, and everyone still needs to let him know how appreciative we are of all that...whatever that is? We see an old rich dude's picture on a screen and clap on command, just because we know who he is and how rich he is? Because he paid someone who paid someone to write his name on the wood in front of us?
---
Phil Knight was a college runner. Bill Bowerman was a track coach, and the late Steve Prefontaine was the company's first signature athlete; you can still see his picture at the entrance of their downtown Portland retail location, which is a little unnerving considering that he died in their shoes. Nike's foundations are in running. But Knight's company went from scrappy Adidas competitor to backbreaking monolith of capital because of the basketball shoes they made and sold. And those basketball shoes became the world's most popular because Nike changed the way apparel companies did business with college basketball teams.

In 1977, Nike met with Sonny Vaccaro. Vaccaro was a Philadelphia basketball promoter who organized the Dapper Dan Roundball Classic, the country's first high school all-star game. Vaccaro was there to pitch to Nike what is in retrospect kind of a shitty idea—a basketball sandal. You have probably noticed that those never caught on, but Vaccaro made an impression all the same. He impressed the executives there with a different and more interesting value proposition: a deep wellspring of connections and anecdotes inside amateur basketball.
Nike was trying to figure out how to get their shoes on the feet of basketball-playing kids. They were trying professional sponsorships, but they were expensive, lagging sorely behind the competition—Dr. J wore Converse—and the NBA wasn't quite the product driver it would become in the next decade future. Vaccaro insisted that going deeper into that morass was a waste of time. He said that if they wanted to get their product on television, Nike should target colleges.
At the time, strange as it seems now, colleges just sort of paid for their own shoes. Shoe companies thought of them as customers. Vaccaro, well-connected, well-liked, had a different idea: turn them into billboards. The track athletes that walked off in Nelson Farris's Nikes understood this at the time better than he did. It wasn't what the school paid to put them in those shoes. It was that they were seen wearing them, and so by association wanting them.
In Swoosh, Nike Executive Rob Strasser asks Sonny what it would take to get college players in Nikes. "Nothing," he replied. "I mean practically nothing. Nobody's giving them anything now." So, empowered with Nike's checkbook, Vaccaro went from coach to coach, acquaintances all, program to program, with a form contract for them to sign. It paid the coaches to encourage, but not require, their players to wear the free Nikes that the company provided them.
It worked. With Nikes on national TV day and night, Converse's sales took a hit almost immediately. They initially tried to play it safe and reap a PR reward for not being as crass as the upstart Nike, but Nike and Vaccaro shamelessly blitzed the market, signing whatever coaches they could and basically paying their way onto the feet of college basketball players all over the country.
Vaccarro did Nike another good turn a few years later when he convinced them to pay Michael Jordan, about to enter his rookie season, a ton of money to promote a signature line. Jordan became the greatest basketball player who ever lived, and his shoes became the hottest clothing item on earth for…well, until now, somehow. Thirty-odd years later, you can still see a silhouette of Jordan's outstretched body on Roy Williams's polo shirt while he theatrically loses his mind in front of the assembled media over how terribly his team played.
---
I am perhaps biased, here, but while watching DePaul warm up before their game against Oregon in the Memorial Coliseum on Friday afternoon, I found it hard to imagine that anyone in the crowd was not locked onto Pantelis Xidias. Xidas is a 5-foot-9, non-scholarship guard who wears an ostentatious pair of rec specs, and the guy just fucking wilds out out there during warmups, attacking the layup line with a series of performative, low-gravity Isaiah Thomas-y layups, dancing and bopping to whatever music the arena happens to be playing, high-fiving everyone in sight. He stands at the end of the pregame line and performs an ostentatious handshake with everyone stepping into the starting lineup. When the game starts, he barely calms down, clapping nonstop, dancing, knocking out some performative pushups when the camera catches him, and generally doing about as much as someone can do on the court without actually getting any playing time.
After watching Xidas for a while, I thought to myself—if you must know, I was in the bathroom—why? Why does this dude, a slight benchwarmer, go out there and strictly lose his shit, game after game? What is in it for him? And then, still in the bathroom, the thought broadened some: why are these kids, these coaches, these writers, this writer, doing any of this? Yes, Phil Knight kind of invited us, but what do we benefit from it?
I will not tell you whether or not I was still in the bathroom when an answer came to me. I think that Xidias goes out there and performs and hypes and encourages because that is his ambition for himself and his teammates. He sees basketball as a social thing, a competition with his teammates and a communion with the fans, and so he pours himself into creating those structures as much as he possibly can. He is, in a literal sense, playing his part.
When I studied shit in college, theater or books or whatever, I tended to think about them as objects with purposes, containers stuffed with meaning. Sports, which truly have absolutely no fixed meaning, have shaken me out of this way of thinking. The games we watch are a container that takes the shape of whatever one chooses to pour into them. Coaches think of the games as an act of grand strategic mastery. Sportswriters tend to think of them as an either a grand heroic narrative or some sort of neurotic intellectual exercise or just as the thing that needs to be described in a given number of words along a specific deadline. Fans turn them into an expression of neo-nationalistic madness. I did not get to speak to Xidas, but I watched him, and so I will say that, for him, I suspect sports is an act of communion with his fellow man.
But that's just him. For Tre'Darius McCallum, Xidas's teammate and a juco transfer and someone I did talk to, it's a test of self, a ladder to bigger ambitions. "Being in the Big East, it's a lot of competition," he said. "I love that. From the get, I knew I could play at the highest level, so I'm here, I can prove myself, trying to get to the next stage of my life, if that's the NBA or playing overseas professionally. It keeps me going, every day, just to know I have to bring it every night."
On my last day, I asked a bunch of these athletes why they play in the first place. One player told me he felt like playing was his life's purpose, one player told me he plays so he can provide for his family, one player described it as a craft, an object he takes pride in. The reasons are wide and disparate, as you might expect, and they shape everyone's approach and ambition just as you might expect. These are performers, even artists if you want. They will necessarily bring their own passions to the pursuit.
This still left me with a question I couldn't answer, for someone who was not taking questions. What is it that Phil Knight sees, or even once saw, in sports? Certainly he is one of the most influential and powerful men in the world, probably more influential than any team owner or league commissioner. What did the container of sports become when Phil Knight poured his overwhelming ambition into it? Did it change because of what he added, or did he fill a space that had otherwise not been reached? What, back in the day—the track athletes walking off with his shoes, the lonely longshot days of selling something to people who weren't sure they wanted it—did he see in this emotional pageant that he imagined he could serve, or could serve him?
This would be where I might guess at that, but I can't really do it. I can tell you the answer that I saw, which is "sports are a super powerful hot rod that exists to get fucked nonstop by the dragon of capital and give birth to a constant stream of money-eggs for everyone to fight over." You might disagree with this, personally. But it ended up being a powerful vision. The proof is all around us.
Corbin Smith is a writer from Vancouver, Washington, the host of the Take It Or Break It podcast, and handsome young man of note.