FIFA is so hopelessly corrupt that today's lottery to determine World Cup round robin groups is a necessary evil. If a committee determined the groupings behind closed doors, it would surely result in political enemies being forced to face Brazil in the first round and the country giving Sepp Blatter the biggest envelope full of cash getting to play Cameroon, Honduras and Rand McNally. FIFA can't even administer the lottery without allegations of shenanigans.
But suspend your disbelief and imagine that FIFA could be trusted to determine groupings in a more American manner—with a selection committee. Americans would never let a sport determine playoff seeding by lottery. We only have that in the NBA draft, and that's to discourage tanking, not to prevent corruption.
The American event most similar to the World Cup is the NCAA basketball tournament. You have participants who have gained entry by playing in disparate qualification groups based on geographic area (though Israel is in Europe, just like how West Virginia is in the Big 12) and you have a variety of rankings that try to take strength of schedule into account (Algeria had a better qualifying record than Portugal, but nobody thinks them the better side). And the NCAA tournament selection committee does a good job. The fact that an independent observer like Joe Lunardi can project the field pretty well evinces a process that takes objective criteria into account.
So what if FIFA could be trusted with a selection committee that seeded groups based on rankings and sought to avoid teams from the same confederation from playing each other? It'd be just like how the NCAA tries to seed the tournament based on an S-curve, except conference opponents can't play each other before the Elite Eight.
So here are the rules for the FIFA Selection Committee. Every group has to have one or two UEFA sides by dint of the fact that 13 of them qualified for the World Cup. Other than that, no opponents from the same confederation from the first round. And teams are seeded based on an S-curve using some type of ranking, keeping deviations from the ideal to a minimum. What would they come up with? How bad would the Group of Death be? And how does the U.S. do?
G/O Media may get a commission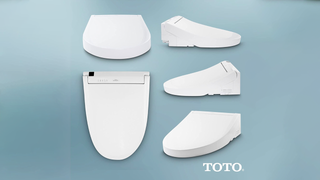 44% off
Toto Washlet Electronic Bidet Toilet Seat
---
First, here's what seeding based on FIFA's own rankings would look like (under this scenario Brazil is the first seed no matter what, because it's Brazil playing a World Cup at home).
Group A

Brazil (1), Bosnia & Herzegovina (16), Croatia (18), Cameroon (32)

Group B

Switzerland (8), Netherlands (9), Costa Rica (24), Algeria (25)

Group C

Germany (3), United States (13), Ecuador (21), Iran (29)

Group D

Colombia (5), England (11), France (20), Japan (28)

Group E

Argentina (4), Portugal (14), Russia (19), South Korea (30)

Group F

Belgium (6), Chile (12), Ghana (22), Honduras (27)

Group G

Uruguay (7), Italy (10), Mexico (23), Nigeria (26)

Group H

Spain (2), Greece (15), Ivory Coast (17), Australia (31)
Deviations from the ideal:
Under the FIFA rankings you have a clustering of South American sides near each other in the middle of the S-curve that need to be sorted out. If you don't flip Argentina and Germany then you have to put Ecuador two groups away from the ideal. Instead, it's only one group away from where it should be based on seeding, and France makes its group slightly tougher. Also, England has to flip with Chile, so Chile doesn't face Uruguay or Colombia. And Croatia gets put in A instead of H because Spain and Greece fill up the Group H European quotient, allowing Ivory Coast to avoid Brazil.
Who's the Group of Death?
Group D most likely, giving a boost to English soccer fatalism. Still, it's not that much appreciably better than some of the other tough groups.
How does the US fare?
Not bad. Germany probably has too much outfield talent for the U.S. to avenge Torsten Frings's handball. Ecuador, though, is one of South America's weaker sides and one of their best players died during qualifying. And Iran would play the role that Algeria did in 2010, as the less talented side trying to play the U.S. to a stalemate for geopolitical reasons.
Of course, the FIFA rankings are a bit suspect. Few people think Switzerland is actually better than the Netherlands. So there are a couple of other rankings that the FIFA Selection Committee could use. First up, ESPN's Soccer Power Index, which has the Nate Silver imprimatur.
Group A

Brazil (1), Portugal (16), USA (17), Algeria (32)

Group B

Uruguay (8), Netherlands (9), Nigeria (24), Croatia (25)

Group C

Germany (4), Italy (13), Ghana (21), Iran (29)

Group D

Chile (5), Belgium (12), Greece (20), Honduras (27)

Group E

Argentina (2), Bosnia (14), Switzerland (19), Cameroon (30)

Group F

Colombia (6), England (10), Costa Rica (22), South Korea (28)

Group G

France (7), Ecuador (11), Mexico (23), Japan (26)

Group H

Spain (3), Russia (15), Ivory Coast (18), Australia (31)
Deviations from the ideal:
I flipped Spain and Argentina because otherwise Switzerland, the Ivory Coast, Cameroon, and Australia all have to change groups. Greece and Ghana change places so Group C doesn't have three European sides. Group F needs at least one European team, so England takes Ecuador's place. And South Korea gets a harder group to prevent a Honduras-Costa Rica matchup. ESPN's rankings have more low-ranked European teams and that means more chaos; this is a lot easier when most of them are in the top two tiers.
Who's the Group of Death?
Group B certainly doesn't look easy but, again, this method avoids having a group that's appreciably harder than all the others.
How does the U.S. fare?
A win against Brazil in Brazil would be pretty damn improbable; even when Kasey Keller stopped them in the Gold Cup, the U.S. was working with the benefit of playing them in the Meadowlands L.A. Coliseum. But Algeria should be just as lousy as it was in 2010. So it'd come down to whether Cristiano Ronaldo could score as many goals against an overmatched U.S. back line as the U.S. could put up against a Portugal side where almost everyone is overmatched except for Cristiano Ronaldo.
And finally, here is a seeding based on the Elo Ratings, which are similar to the FIFA rankings but avoided the pitfall of ranking Switzerland in the top eight.
Group A

Brazil (1), Russia (15), Greece (17), Algeria (32)

Group B

Portugal (8), Uruguay (9), Iran (24), Nigeria (25)

Group C

Argentina (4), France (12), Mexico (20), South Korea (29)

Group D

Netherlands (5), United States (13), Croatia (21), Ghana (28)

Group E

Germany (3), Switzerland (14), Ivory Coast (19), Honduras (30)

Group F

Colombia (6), Italy (11), Bosnia (22), Australia (27)

Group G

England (7), Chile (10), Japan (23), Costa Rica (26)

Group H

Spain (2), Ecuador (16), Belgium (18), Cameroon (31)
Deviations from the ideal:
Only two. Ecuador and Russia have to change places to avoid having three European sides in Group H and France takes the U.S.'s place in Group C so it has one European team.
Who's the Group of Death?
You tell me. This seems fairly balanced. Actually...
How does the U.S. fare?
Similar to 2010, the U.S. has a European power, a former Yugoslav republic and an African side in the group. But the Netherlands is better than England, Croatia is better than Slovenia and Ghana is WAY better than Algeria. This could very well be the Group of Death. The U.S. might prefer its chances in a lottery to this.
---
All of these methods give the World Cup a more equitable draw than the current system: there's no chance a group could contain Brazil, the Netherlands, the Ivory Coast, and the United States. However, the U.S. is still at a disadvantage in World Cup seeding as long as European and South American teams can't be drawn against each other. This isn't necessarily unfair; rather, it's part of a tradeoff that the U.S. agreed to when it joined CONCACAF. Under current qualifying rules, the U.S. and Mexico are virtually guaranteed a spot in the World Cup because of their weak competition. A talented team like Uruguay might barely qualify, but the fact that it already made it through the CONMEBOL gauntlet should mean that it doesn't have to face Argentina or Brazil again.
It's too bad FIFA can't be trusted to do anything, because a fair selection committee would always pick a vastly better draw for the World Cup than a lottery. But preventing teams from the same confederation from playing each other is one of the few fair things that FIFA does, and better anything than have some guy stuffing a big manilla envelope with SEPP written on the front in big black letters.
Bobby Big Wheel (aka Bobby B. Wheel, aka Robert Wheel) is an attorney and freelance writer who blames his commitment issues on the Whalers leaving Hartford. Follow him on Twitter at @BobbyBigWheel.