Mike Cation heard a moan, and figured it was just two people in the stands talking loudly. The tennis announcer, working the USTA Pro Circuit's Sarasota Open on Tuesday, looked at the crowd and saw everyone looking around. Then it became clear: This wasn't two people talking. This was two people fucking.

"After the first three moans, it was clear that it was copulation," Cation says, "being enjoyed vigorously."
The tennis match yesterday interrupted by sex noises was, obviously, the first time Cation had ever experienced this during his four years as a tennis announcer. Like everyone, he was shocked. "Well, that is the most bizarre situation," he said on the broadcast. "I don't know how to put this, folks, but somebody's phone—going off—in the stands." He paused for a full 10 seconds. "And it was an adult video."
It actually wasn't an adult video, though. The sex sounds were coming from one of the houses adjacent to the United Tennis Academy in Bradenton. "No, that's not a phone," Cation added. "That's an apartment across the lake."
G/O Media may get a commission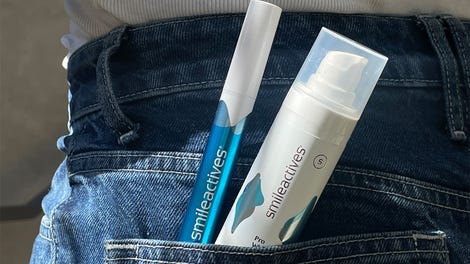 58% off
Whitening Powerhouse Pen & Gel Duo
Cation said the noises continued for about three minutes. Both of the competitors in the match, Frances Tiafoe and Mitchell Krueger, noticed it. Krueger stopped to get a ball to fire off into the distance, while Tiafoe stood there in disbelief.
So what do you do when the tennis match you're announcing is interrupted by the sounds of sex? Cation is "literally two feet from the court" at the Sarasota Open, where he is calling matches again today. He has to keep his voice down at all times. It's not a Grand Slam tournament where he's in an upper-deck box. He needs to keep his calm. So how do you do it when there's XXX action going on somewhere nearby? How do you avoid laughing?
"I didn't have to stop myself [from laughing], actually," Cation says. "Because, like so many others, it just took me a second to really understand what was happening, where it was happening, and then all of a sudden—well, I've got to figure out how to talk about this in a family-friendly way."

This wasn't the first time he had to deal with a noise interruption while announcing a match in the USTA Pro Circuit (basically the AAA level of tennis in the U.S., Cation explains).

"Every once in a while, we've had noises that were not sex related," he says. "Some of these events, we're close to construction sites. You can be close to airports. Car alarms 10 feet away. Babies. A boisterous fan. You name it. It's handled pretty much the same way, you wait until it's over, and then you continue. But this was completely unheard of."
As the furious copulation continued, Cation kept his composure. "I still hear it," he said. "It's still going!" Tiafoe turned around and shouted: "It can't be that good!" Cation added: "At least somebody's having a good night."
"I was trying to take my time and work through it.… I take a lot of pride in making sure we tell the stories of our USTA events and players in a way that respects their hard work," he says. "So you don't want to disrupt that at all. But then, when the players are paused, the crowd can't contain themselves, you just have to explain what's happening. It's the basic part of a play-by-play job. Describe what's happening. So, I tried."
After about three minutes, the noises stopped. A producer told Cation you could even see into the house from the stands at the court, but that no one stopped by to ask them to keep it down. "What would you even say?" Cation says.
The clip has circulated beyond the wider tennis community. It's the second time Cation has gone viral: In 2014 he announced a match where Marcus Willis, best known for his run through Wimbledon last year, ate a candy bar and drank a soda at a match. This incident, understandably, is going a bit wider.