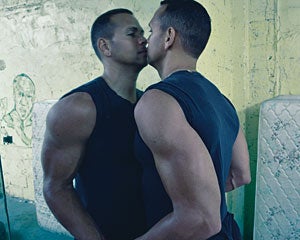 It wasn't long after Alex Rodriguez had completed his interview with Details magazine writer Jason Gay that he began having second thoughts about something he said. Was it about steroids? That goofy photo shoot? Um, no.
"I got a a frantic call from Alex, with him saying that he didn't want to reveal what his favorite Madonna song was," said Gay, who was interviewed on WFAN Radio (Boomer and Carton!) on Tuesday. "That's what was so weird about it, because the interview was literally the night of the same day that he had met Selena [Roberts] in the Miami gym. And he gave no indication that he was worried about that. He calls back the next day, and he's worried about that song."
We've all seen the infamous photos of A-Rod making sweet love to himself. Trying to figure out why he agreed to the photo shoot, and why his priorities seemed so skewed during the accompanying interview process with Gay, will have people scratching their heads for years.
Gay, on the Madonna song:
"It's not even a very good Madonna song. I can't tell you which song it was. I have my word and I have to honor that. But he wanted to make sure that I didn't mention it in the article. He was concerned that visiting ballparks would play the song when he came to bat."
Pressed on what song it might be, Gay said:
It's a late 21st century song, it's safe to say.
But why did Rodriguez agree to the interview in the first place?
"This was in the works before I came on board as a writer so I can't answer it 100%, but I think it was a situation where A-Rod, they thought had come out of the fire (they thought) the last couple of years, he's working with this guy Guy Oseary who manages Madonna. The idea was to put A-Rod out there as this kind of global brand, now of course that is just pretty much out the window."

"I wanted to go to the shoot and they wouldn't let me go. It was a closed shoot. The photographer, Steven Klein, is a really well known fashion photographer, he's worked a lot with Madonna which I found kind of interesting so of course I wanted to see what it was all about, but it was a closed set as they say. The thing that is really important here is these photographs were literally taken the day before the Selena Roberts story broke on SI.com. So it's kind of staggering." (which means Alex already knew about the steroids story coming out).
At one point Gay is asked how honest he thought Rodriguez was being with him for the article.
"With Alex, he's not a rude person, he aims to please, he wants people to like him, but there's a weird sort of nature to the kind of way he answers things that you're not always sure of the integrity of even the most basic things like…how do you feel, what would you like to eat, how do you like your meal, the answers to even benign things."
A Perfect Last Name To Describe A-Rod's Details Magazine Pictures [Radio Sports Interviews]