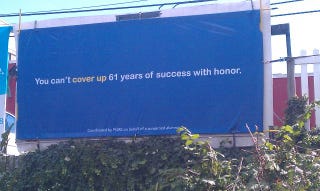 Yesterday, a billboard in support of the late Joe Paterno's legacy was erected in State College. Well, we think that it's trying to support the former football coach's legacy.
The billboard reads, "You can't cover up 61 years of success with honor." (For the unaware, Paterno's slogan was "Success With Honor.") Due to the awkward wording, though, the billboard can be interpreted in two very different ways: you can't cover up 61 years of Paterno's traditions (what the billboard's creators intended to convey), or you can't honorably cover up 61 years of Paterno's success.
Either way, the highlighting of the phrase "cover up" is even more poorly thought out, since it would remind many of the scandal itself, which involved an extensive cover-up to maintain the program's image. A poor effort all around.
Billboard supporting Joe Paterno goes up at Penn State (Picture) [Larry Brown Sports]
Photo via Onward State.