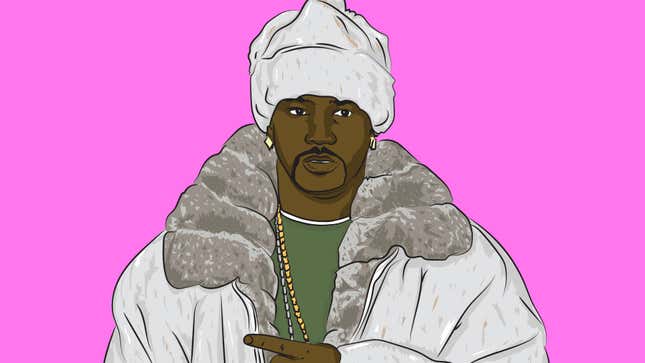 Today is Cam'ron's birthday. He's 39, so it's possible he's feeling like those years are adding up. But it's okay, Killa Cam: You're only as young as you feel. But honestly, what do you get the guy who has everything in pink and then some? I have some suggestions.
Bass' ERA stinks, but not compared to who he is off the mound | Worst of the Week Countdown
Rollerblades: Cam'ron and his girlfriend Juju went rollerblading in Venice recently. They looked like they had a really good time! Enough that Cam would absolutely enjoy his own pair of blades. Don't forget the wrist guards!
A Segway tour of Los Angeles: Cam has been spending more time in L.A. recently, and he strikes me as the type of guy that would get a kick out of getting to know his new home on a two-wheeled people-mover. Maybe the Santa Monica tour would be nice.
A nice coffee-table book: Let's say you don't actually really know Cam that well, but you want to get him something nice and expensive.
A nice shave and maybe a pedicure: Treat yo self!
A Kindle loaded with all seven Harry Potter books and a copy of Eat Pray Love: Save for a brief hiatus a few years back, Cam's been pretty busy doing the whole "rapper and sometimes actor" thing for most of his adult life. He claims he's retiring after Purple Haze 2, so he'll have a lot of time on his hands to read stuff he's missed. He'd probably enjoy some Potter in addition to a story of finding oneself.
A box of Count Chocula: Considering he has that line of capes now, he'd appreciate this joke.
A year's supply of 5-HTP: Cam'ron actually has kind of a lot to do before he retires. Besides Purple Haze 2, he's also got the Dipset reunion tour and the Federal Reserve EP, his collaboration with Fool's Gold head A-Trak. And you know how those raver kids love their molly. Cam probably gets down, but he has to recover the same as the rest of us, with a lot of sleep and weed and some natural supplements.
Fur-cleaning coupons: Cam's love of fur is well established, and when he's back on the East Coast this time of year, the snow and ice can do some serious damage to a mink.
An iPhone case with the picture of Cam wearing the pink fur: Cam sold Ebola masks with this very same picture of him on them earlier this year (see below). A smart businessman, he is. Also, he loves himself, and self-love is great, as is taking good care of your electronics.
A steak dinner at Peter Luger: This would make a good gift for anyone. Have you heard about the thick-ass bacon they serve there?
Knicks tickets: Cam loves basketball and reps New York teams. But actually, you might want to hold off on this gift until next year, or whenever the Knicks stop being butt.
A 30-day membership to a yoga studio: If you're not feeling the Segway suggestion, a little yoga might do Mr. Giles good. He's gotta blend in out there on the West Coast, you know? Besides, this might be a good bonding activity for Cam and Juju (who is a perfect goddess).
Mediation classes: I know of a Harlem rapper whose name rhymes with "Pam'ron" who has both a birthday today and a long history of beefs (or beeves) with former friends.
A signed card from Bill O'Reilly: To check in and confirm: "U (still) Mad?"
Art by Sam Woolley