Philadelphia is 3-1 and at the top of the NFC East, but you wouldn't know it by looking at the stat line of its star, LeSean McCoy. In Philly's last two games, Shady's totaled 37 rushing yards on 39 touches, and no receptions. Through four games last season, McCoy had 468 yards on the ground. This season: 192. The Eagles' most important offensive cog is nowhere to be found. What the hell happened with him? The answer, it turns out, has a lot to do with players who are not LeSean McCoy.
I started with the Week 2 game against the Colts; that was the last and so far only sighting of McCoy we're used to, with his video-game jukes, burst, and patience for his blockers intact. He only had 79 rushing yards, but he helped the offense in other, subtler ways, like wearing down Indy defenders with outside runs and horizontal plays. When Darren Sproles, who finished with 178 rushing/receiving yards, jumped in for McCoy, an exhausted Colts defense couldn't deal with the fresh threat.
McCoy looked good, but the other thing I noticed was that whenever McCoy looked good on those outside runs and screen plays, center Jason Kelce was right there with him, because Jason Kelce is a beast. Kelce is an outstanding run blocker, but more importantly, he's exceptionally fast on screens and other plays that asked him to pull a certain way. he held down the line last season, too, when Pro Football Focus (login required) gave him a 22.1 overall grade for 2013, making him the best center in the league.
Kelce's speed makes him ideal for what Chip Kelly and McCoy want to accomplish. Look how quickly he gets to the second level on this outside run. McCoy cut a little too early, but if he'd shot outside of Brent Celek (#87), Kelce was 10 yards ahead of the play, sealing the safety and likely giving McCoy the edge.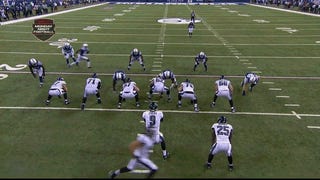 Here's Kelce again, running with Sproles, absorbing and knocking over two defenders so Tiny Darren can keep running: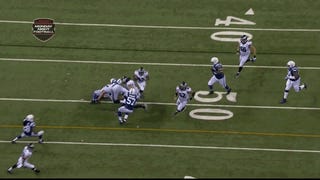 He could also fly step-for-step with Jeremy Maclin in Week 3, ending up 40 yards down the field blocking for a sure touchdown (until he threw a bonehead block in the back to get it called back).
We linger on Kelce because he's a very good player and crucial to McCoy's success, and also because he left Philadelphia's Week 3 game with a sports hernia injury. The running game had, to that point, coped without injured starting left guard Evan Mathis and suspended starting right tackle Lane Johnson, and even versatile backup tackle Allen Barbre, whose season ended in Week 1 with an ankle injury. But no Kelce was too much. His replacement, David Molk, was definitely not Jason Kelce.
In that same game, McCoy took a blow to the head on his second carry of the game. He fought with trainers to return, and even tried to snatch his helmet from a staff member. The NFL-mandated evaluation was rushed, and McCoy wasn't making defenders miss when he returned. He finished the game with 22 total yards. For multiple reasons, McCoy should have sat out the rest of the game.
But put aside for a moment the cranial health of McCoy—it's important, but impossible to measure without seeing his test results. Wi th a suddenly even more haphazard offensive line (Andrew Gardner at right tackle! No, wait, left tackle!), Chip Kelly's aggressive, probing playcalling changed, too. The line could barely hold the pocket together at times, and there were only a few emergency plays in which McCoy was viable as a dumpoff, because the Washington defenders closed in on Nick Foles quickly. Screens were no longer part of the game plan. How could they be? Also gone was any chance of running an effective sweep, since the linemen weren't fast enough to pull. Here's what happened when the Eagles tried to execute a sweep in the third quarter, post-Kelce injury: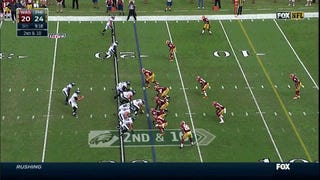 Jason Peters (#71) and Todd Herremans (#79) were supposed to pull right for McCoy. Gardner (#66) couldn't sustain his block past the line of scrimmage. Peters couldn't get around his teammate, and McCoy was brought down quickly. End result: Fucking mess, loss of two yards.
So, Philly's horizontal game fell apart. The running plays turned into "run McCoy into the line and hope someone opens up a hole for him," except no one was opening up holes, and McCoy got clobbered as he tried to find one. Shady turning into a Trent Richardson-esque contact runner wasn't just detrimental to the team, but to him as well.
Going into last Sunday's game against the 49ers, Kelly said McCoy was healthy. McCoy, when asked after the game, said this:
"I doesn't matter," he said. "It doesn't matter if I'm healthy or not. We have to win games. I am fine."

OK, then.
On the field at least, McCoy looked normal, but again, his line wasn't helping. He ran a few sweeps that failed; screens were essentially scrapped; and San Francisco smothered the flat, regardless of the running back. At one point, this happened on an outside zone run:
Philly couldn't get anything going, even simple screen passes that usually acted as a safety blanket for the Philly offense and allowed McCoy to get into space when the line was clogged. One of the benefits of a screen is that it jolts the pass rush into not biting as hard in the future. (McCoy also lives on these plays, since they give him open space and the ability to use his moves.) Since Philly's few screens didn't work, the 49ers were never caught off-guard. They just kept harassing Foles, linemen couldn't hold blocks, and the quarterback completed 21 of 43 attempts for the game. The offense, as a whole, looked like trash. The game was really only close because of magnificent performances by the defense and special teams. Philly couldn't even get in field goal range with its offense.
---
Johnson's coming back from suspension this week, so that should help some. Kelce's focusing on a Week 10 return. Mathis will be eligible to leave short-term IR in time for the Week 10 game against the Panthers, too. In the meantime, Philly benefits from a lull in its upcoming schedule: Rams and Giants, both at home, then a bye week, giving two weeks to prepare for the Cardinals.
The current offensive line's only goal is to not be totally shitty until its starters can return. McCoy's job is to survive until they do.
Photo: Getty