I went to Rockford, Ill. to watch girls play baseball 63 years after the real Rockford Peaches of the All-American Girls' Professional Baseball League played their last season and 25 years after A League Of Their Own introduced their story to a new generation. The Peaches were the most successful team of the short-lived AAGPBL, winning the championship four out of the 12 seasons, but I imagine it was Geena Davis, Tom Hanks, Madonna, and the memorable lines of the 1992 movie that put Rockford on the cultural consciousness map.

Baseball for All, a nonprofit started by Justine Siegal to promote girls baseball, took their national tournament, now in its third year, to Rockford to capitalize on this history. More than 200 girls across 17 teams—many of whom had never played together—descended on the city for a long weekend of baseball. Siegal, whose two-week stint with the A's in 2015 made her the first woman to coach for a Major League Baseball club, organizes many of the teams herself by grouping individuals who reach out to her by age and region. Without a centralized governing body for girls baseball, this is a painstakingly slow process that relies on word-of-mouth or dedicated parents whose daughters have been discriminated against looking for an outlet. So far the effort has paid off. Several of the regional teams that formed for the first two tournaments continued to play together, although rarely against other girls.
The opening ceremony and the Under-17 games took place at Beyer Stadium, where the Peaches played from 1943 to 1954 (although not where the movie was shot). It was there that I spoke to former AAGPBL players Shirley Burkovitch and Maybelle Blair, 84 and 90 years old, respectively. Both women are now on the board of the International Women's Baseball Center, which co-hosted the event and which is working to open a museum of women's baseball across the street from the field. Blair said she envisioned Rockford as the "Williamsport for girls," referencing the Pennsylvania town where Little League Baseball is headquartered.
It's worth noting that the AAGPBL wasn't some beacon of unfettered access to what has otherwise been an exclusively male professional pursuit. For one thing, African-American women were excluded, even as Jackie Robinson was breaking the color barrier in MLB; women were rarely managers and eventually that was codified into an explicit ban. Beyond that, it was never fully baseball. What started out as the All-American Girls Softball League in 1943 moved closer to baseball over the years, adding in overhand pitching and a smaller ball in the late 1940s, but distances between the bases and from the mound to home plate never caught up to the men's game. Still, they were paid to play and people turned up to see them—several thousand at each game in the small Midwestern cities where they played, and as many as 754,000 for an eight-team league over the course of a season.
In the more than half a century since the AAGPBL reached its greatest success, girls have pursued baseball in growing number—Baseball for All estimates that over 100,000 girls play in youth leagues—but the AAGPBL retains a singular mystique for what it represents: A period in time when women were given access to the game, not as an exception but as a rule.
G/O Media may get a commission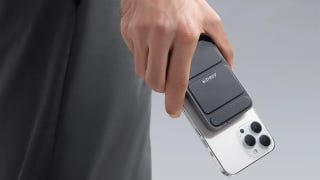 15% off
15% off Anker Top Ten Products
Take charge
Treat yourself to a portable power bank, a magnetic wireless battery for iPhones, or even a solar generator. There is a reason these are in the top ten. For instance, the Anker 747 Power Bank is a 4-in-1 charger utilizing USB-A and USB-C to be capable of charging up to four devices at once. Great to take with you when traveling and in need of keeping your phone, laptop, and even Nintendo Switch powered on.
Creative producer: Alfonso Solis