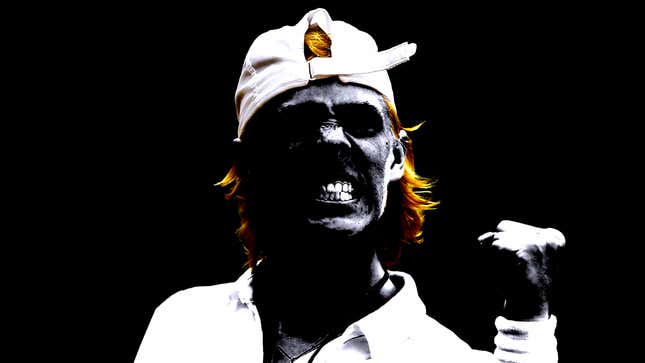 A friend of mine from Vancouver likes to joke that it's possible to spot a product of Tennis Canada—Canada's national governing body for tennis—from a mile away, like some kind of giant inflatable Tennis Person. These Tennis People are, in Tennis Canada's own words, "full-time athletes" committed to "producing consistent performances on demand." They aren't really unique to Canada, either: They're all over the world these days, at Junior Grand Slams, in the Top 100, at your local tennis tournament, always hitting two handed backhands, always kicking second serves to their opponent's backhands, and always Constructing Points from the Baseline in Order to Maximize Their Chances of Success.

Chris Paul should ride the bench next season | Keep it a Buck(et)
When I first saw the guy now known as El Shapo, or Denis Shapo-VAL-ov, hit a tennis ball, I had no idea that he had anything to do with Canada's national tennis strategy, or that he had grown up a few miles north of where I live in Toronto. All I could think of was that he was a talented 18-year-old playing a kind of creative, free-flowing tennis that was utterly unfamiliar.

Shapovalov is so new and so young that this is really all that anyone knows about him at this point. He finished his grass court season this year with a first-round loss at Wimbledon, ranked 161 in the world. He then exploded off the North American hardcourts, upsetting world No. 1 Rafael Nadal en route to the semifinals in Montreal, and then last week became the youngest player to reach the fourth round of the U.S. Open since Michael Chang in 1989. By the time he lost to Pablo Carreño Busta on Sunday, 6-7, 6-7, 6-7, he had become the most compelling story of the men's draw. Shapo's ascent has been so steep that until recently, the most notable video of him depicted him making maybe the worst possible mistake that a tennis player can make during a tennis match.
Most of the YouTube videos of him are still janky clips of him playing lower-level Challenger and junior tournaments. The cameras in these videos are sometimes positioned nearly head-level, which is where my head was positioned when I played competitive junior tennis in Canada a decade ago, which means that these videos mainly make me think of how terrifying it would be to face Denis Shapovalov on a tennis court.
Every aspect of Shapovalov's game communicates to you that Denis Shapovalov is more committed and more interested in winning the tennis match than you are. He does not want to get into a rhythm with you from the baseline or to "construct" points. He wants to hurt you and to always be pushing forward, even from the baseline. His great sweeping reveal of a one-handed backhand never looks like it's going to make contact with the ball, but then it does, letting him be more angular and versatile and aggressive than you. He seems to be the only member of his generation to have gotten Roger Federer's memo about attacking and coming to the net more. He is interested in winning completely on his own terms, with a style of play that appears to be built around his personality, rather than vice versa.

Zoom out and you see that these are the traits that make him a joy to watch, and that make it so easy for observers to draw flattering, and at times silly comparisons to tennis legends. "It's like watching a combination of Nadal and Federer at 18 years old," said former world No. 1 Mats Wilander earlier this week. "He has the fire of Nadal and the speed around the court of Nadal and he has the grace of Federer—it's unbelievable."

Even more impressive than the chatter Shapovalov has provoked from old tennis heads is the almost instant fervor he's inspired back home among people who have never watched a tennis match in their lives. This may very well be another case of Canada losing its mind over a talented player only to spit them out later. But Shapovalov generated more electricity among Canadian sports fans in one week at the U.S. Open than Milos Raonic did over half a decade of dutifully reaching quarterfinals at Slams. His fire and his refusal to play boring tennis shines through even to people who have no idea what boring tennis looks like. His surfer/hockey guy flow and endearingly busted, oversized, singularly over-cinched hats don't seem to hurt either.

This is exactly the kind of person that tennis is made for: individuals who are utterly unique and unfamiliar to us, who might have something new to say about the practice of hitting a fuzzy yellow ball over a net. Who have managed to not have their personalities removed from them, say by a national tennis organization or a terrible coach.

This is also exactly the kind of person who, by simply existing, demonstrates how utterly disposable national regimes like Tennis Canada can be when it comes to developing star talent. How misguided and even dangerous is their obsession with "enjoyment and improvement which ultimately results in... retention in the sport and in overall growth in the number of tennis players" (emphasis Tennis Canada's). The almost vegetable consciousness, to steal a term from writer Elif Batuman, with which they seem to approach the task of nurturing the gifts of individual, idiosyncratic children.
When Denis Shapovalov was eight years old, he spontaneously started hitting one-handed backhands. Right on cue, the official tennis people that stalk the halls of Toronto's tennis courts apparently advised that Denis return to hitting a two-hander, but his mother and coach Tessa Shapovalova, a former world No. 445 from Russia, let him do it anyway.

"I said, 'Well he has this naturally, so let him do what he wants,'" she told the Globe and Mail.

As Denis got older and the demands of coaching her son became too great, Shapovalova decided to open her own tennis school in Toronto so that Denis could continue training and living at home, instead of sending him to an academy or to Canada's national training center.

"They had more of a group approach there, and my vision was a little different," she said of the national training center, diplomatically. "I felt he needed more individual work instead."

Tennis is an individual sport, and every tennis player needs individual work. I suspect that Tessa Shapovalova believed that her son had something unique and worth protecting from the world for just a little bit longer.

---
Nick Zarzycki is a writer living in Toronto.