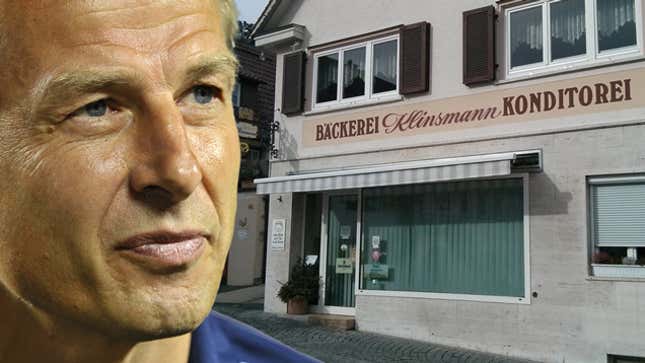 Before Jürgen Klinsmann snubbed Landon Donovan, before he coached Bayern Munich or the U.S. and German national teams, before he won the UEFA Cup as a player with Internazionale and again with Bayern, before winning the World Cup and captaining the German team to the European Championship, he lived with his parents in an apartment above the family bakery in Botnang, a suburban district in Stuttgart, Germany. In the early '80s, just as his professional soccer career was getting underway, he worked as an apprentice, learning the family trade, weighing the flour, portioning the dough, kneading. By the time he made his Bundesliga debut for VfB Stuttgart, he was already a certified journeyman baker.
How running an NFL team is like running a restaurant | Chef Emeril Lagasse
The story of Klinsmann's first career is well known on both sides of the Atlantic, but the bakery is a major part of his legend here in Germany. Such is the German media's obsession with Klinsmann, the baker's son, that you might wonder what better defines the man's character: his on-field achievements or what he accomplished alongside his dad, a master baker, in the bakery's kitchen.
I wanted to know what Botnang revealed about him, if anything. So on a bright February day, I skipped lunch and boarded the 12:06 train for the 40-minute ride from Heidelberg to Stuttgart. I'm not the first writer to have done so. If you google "Klinsmann Bäckerei," you get the impression reporters have eaten their share of the family's prized Swabian pretzels. During the 2006 World Cup, as coach of Germany, Klinsmann had to beg the media to stay out of the bakery. Now, with another World Cup only months away, and with a meeting between his American team and his old German side already penciled in, they were sure to be back.
Botnang is on Stuttgart's western edge. The neighborhood is one of those semi-autonomous places to which the word "suburb" does a kind of injustice. It was there long before Stuttgart came to swallow it up. The local Church of the Resurrection, a Lutheran congregation to which Klinsmann belonged, was first built in 1450 and again, after the war, in 1955. Even today the little valley Botnang occupies is set off from the city by a small strip of green. When you step off the subway, you're at the end of the line, and that feels about right: the four- and five-story apartment buildings typical to cities across Germany are gone, replaced by single-family homes and little private gardens.
I went right for the bakery, which is located just up the hill from the church, in a modest, tan house with brown, French-style shutters. A sign hung above the door with a golden pretzel dangling underneath. But the blinds were drawn and it was dark inside. A note on the door said they'd be back at 2:30.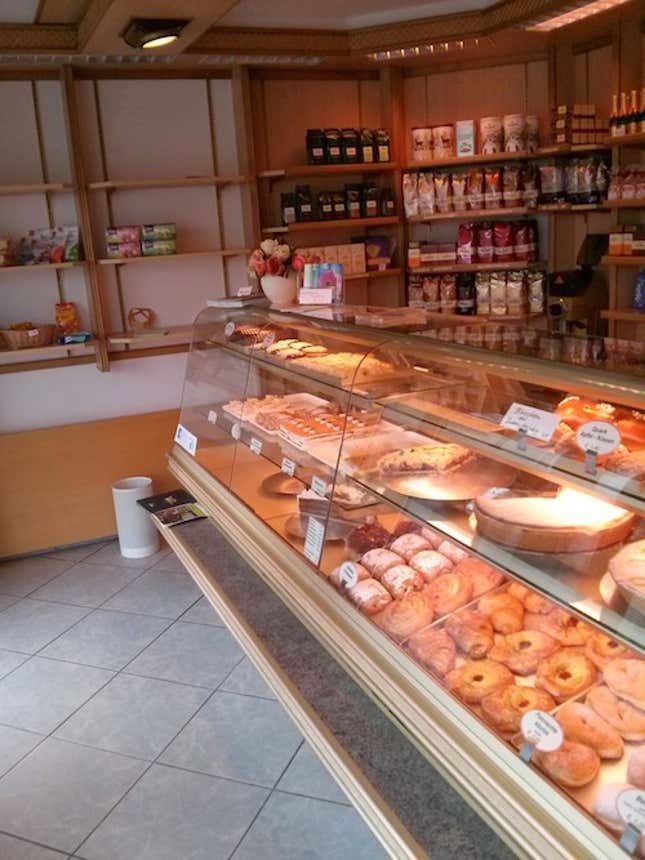 With time to kill, I wandered down toward Kaufmannstrasse, Botnang's main drag. I walked along the little creek that runs beside the road, past yards with tattered, Tibetan prayer flags and houses roofed with solar panels. Soon, I was in forest thick with beech trees, on a trail punctuated by occasional historical markers describing how, for most of its history, people came to Botnang to wash clothes in the area's streams and lakes. The place originated as Stuttgart's laundromat.
It's weird how it all seemed to fit, though. Klinsmann has a reputation for modesty. He was never really caught up in the trappings of celebrity and is known for being a kind of free spirit. (Less flatteringly, you'll also see the word "scheinheilige" crop up here and there—a phony saint.) Throughout his career he's kept so low of a profile that it's come off like a political statement (he left the country for California in 1998). He lived above the bakery well into his professional career and drove a beat-up Volkswagen Beetle until it stopped running in 1995, five years after he won the World Cup. When a mechanic offered to restore it for him, Klinsmann just told him to take it.
Nor was he particularly flashy on the field. He got by on hard work and guile, a player of polished skills rather than preternatural gifts. (The Brits remember him mainly as a diver.) It's no surprise that Germans might see something of their national character in the story of the baker's son. The German educational system isn't designed to funnel as many people as possible into the universities, but rather to place the country's youth into apprenticeships called Ausbuildungs (a system Obama has talked about replicating in the United States). As a result, the country is full of craftspeople: masons, electricians, cobblers, bakers. Craftsmanship and skill mastery are central to the German ideal. Klinsmann Bäckerei isn't just about humble origins; it isn't part of a cute narrative built around the seeming absurdity of baking as a backup plan. It's about what Klinsmann has in common with regular Germans. The bakery is a symbol of Jürgen Klinsmann, craftsman. For all his effort to live a life outside the spotlight, Klinsmann might be the archetypal German athlete.
When I got back, the bakery was open. I half expected to see a place packed with as much sports memorabilia as bread—Fatheads of Klinsmann behind the counter, maybe a shrine to his playing days on the far wall—but I should have known better. It was quaint. It was completely normal. A small glass counter contained various sweet rolls and pastries. On the back wall, assorted bread loaves were stacked on slanted shelves.
I talked for a while to his niece, a tall, brown-haired woman who still lives in the family apartment upstairs. She told me Jürgen once lived upstairs, too, but that his work in the bakery had finished when he'd completed the Ausbildung.
As she packaged me up a croissant and a cup of coffee, we made small talk about what I was doing in Germany and how long I'd been here—all typical stuff. When it came out I was from California, she looked up, suddenly interested.
"Where in California?"
"Los Angeles," I said. To which she smiled and nodded, knowingly, as though that one fact revealed a great deal about who I was, just as this place said something about her uncle. "It's so different," she said.
Before ringing me up, she asked me if I wanted anything else: "Haben Sie noch einen Wunsch?" Do you have another wish?
"Yeah," I thought. "I want the U.S. to win the World Cup." But for some reason I didn't say it. I just thanked her for her time, paid, and walked back toward Stuttgart.
---
Brian Blickenstaff lives in Heidelberg, Germany. He tweets at @BKBlick. Bakery photos by the author. Top image by Jim Cooke; Klinsmann photo via Getty.
Screamer is Deadspin's soccer site. We're @ScreamerDS on Twitter. We'll be partnering with our friends at Howler Magazine throughout the World Cup. Follow them on Twitter, @whatahowler.