Certain moments in our lives we will always remember.
The birth of our children. The day we saw pictures of that Paraguayan lady at the World Cup with the cell phone in her boobs. The day we read that the Paraguayan lady who kept her cell phone in her boobs would run naked if Paraguay won the World Cup. The day Paraguay was knocked out of the World Cup ("No naked lady running, I guess," we surmised, sadly.) The day we heard that the Paraguayan lady with the cell phone in her boobs might run naked anyway. The day we looked on the internet and saw a bunch of naked pictures of the Paraguayan lady and decided we no longer needed to like hourly track the issue of whether the Paraguayan lady would or would not run naked in the aftermath of Paraguay's exit from the World Cup. And so on.
Jokic? Embiid? The NBA MVP is obvious... right? | Keep it a Buck(et)
Among these seminal moments in our lives, of course, would be the day that we witness a very mediocre baseball player achieved a classic milestone: 100 career home runs.
A baseball player who isn't really any good hitting his 100th career home run is just one of those things that brings us all together. I don't have to tell you this — right now you're all remembering where you were when Rod Barajas hit his 100th dinger...the restaurant you were in when you saw Garry Maddox go yard for the 100th time...the dumpster you were urinating behind when you heard the roar of the crowd because Ron Kittle "Went Century." It's a huge deal. So Mike Sielski, logically, is infuriated that there are
No Cameras for Francoeur's Milestone
Yes, he is talking about sub-replacement-level then-Mets (now Rangers) RF Jeff Francoeur. There is no new "Francoeur" who has quietly started playing baseball and is actually really good. It's Jeff.
G/O Media may get a commission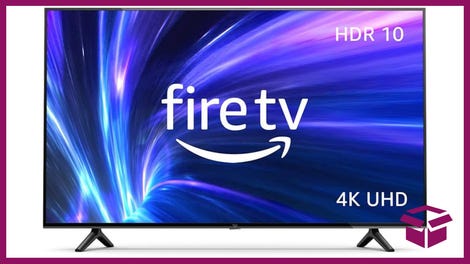 42% Off
Amazon Fire TV 50" 4K Smart TV
Is Bob Costas going to bring his gravitas to Citi Field? Will the MLB Network preempt its regular programming to cover this chase?
Imagine for one second that you were watching like Rays-Yankees on MLB, and they cut away from a tense Soriano-Teixeira 9th inning AB because Jeff Francoeur has a chance to hit his 100th career home run. Wouldn't you feel like the entire world had gone mad? Of course you would. That's why this article is stupid.
Also, I hereby hypothesize that "Bob Costas's gravitas" is a mysterious glowing light that he carries around in a briefcase like in Pulp Fiction. Its alien-created energy field is what keeps his hair dark.
It was only last week that Alex Rodriguez hit his 600th home run, and already another New York ballplayer is pursuing a milestone.
I'm not sure you know what "milestone" means. Jeff Francoeur's 100th career home run is a "milestone" only in the same way that me hitting 20,000 miles in my Camry is a "milestone." It is an event that occurred, that no one cared about but me.
Funny thing, though: Few people have noticed that Jeff Francoeur, the Mets rightfielder, needs just one more home run to reach 100.
"Funny?" It's a fucking disgrace. How has no one noticed that a guy who is terrible at baseball is about to do something meaningless? You know what else? Elmer Dessens is closing in on 30 career holds. Where is Costas?! Where's fucking 60 Minutes? Ye Gods, have we lost the very essence of ourselves? Of life, of history, of America? Things fall apart/the centre cannot hold/the Francoeur cannot hear the francoeurer hit his 100th career home run.
Instead of giving him every opportunity to reach the mark (and only 4.35% of all Major League Baseball players have, according to Stats Inc.) the Mets are trying to shove the guy out of their starting lineup.
As I write this, Jeff Francoeur has still not hit his 100th career home run. He did, however, hit .237/.293/.369 in 401 AB for the Mets, who then (amazingly) got the Rangers to take him off their hands for Joaquin Arias. The fact that Omar Minaya could wrangle a functioning human man of any kind in a trade for Frenchy "78 OPS+" Francoeur is a minor miracle.
The Mets have lost three of their past five games. During that period, center fielder Carlos Beltran has gone 2-for-22. Third baseman David Wright has gone 2-for-23. Shortstop Jose Reyes has made three errors that led to two losses. Yet Mr. Francoeur, who has batted .357 and hit two game-winning home runs over that span, will be relegated to a quasi-platoon in the outfield, manager Jerry Manuel said, now that the team has recalled prospect Fernando Martinez.
Well, it's always a good idea to gauge future success by looking very narrowly at events that take place in a very short amount of time and then assuming they are predictive. That's why, in that 1992 debate, after Admiral Stockdale said, "Who am I? How did I get here?" and everybody laughed because it was funny, we decided not to listen to anything else he had to say and immediately elected him Vice President and he has held the office ever since and done a great job.
This is not to suggest that the Mets ought to bench Mr. Wright or Mr. Reyes—they don't have suitable substitutes at those positions. This is to suggest that if the Mets are doing all they can to stay in contention-"We're still trying to win as many games as we can," Mr. Manuel said Sunday—
Quick digression: Why aren't more people talking about how terrible Jerry Manuel is? I feel like every time I see a quote from that guy it's super insane. (To wit: "You don't see a lot of guys that have statistical numbers play well in these championship series.") His wiki page says that his nickname is "The Sage." That's insane. He's Grady Little with a beard. I just poked around for some quotes and the first thing I found was this:
"That's the way I see it," Manuel said Friday afternoon, when asked if Bay was lost for the year. "I could be way out of line, or way out of bounds, but that's the way I see it. . . . Last I heard was that he was doing minimal activities, and nothing baseball related."
About six hours later, after Bay apparently contacted the team to voice a difference view, Manuel said his comments were "premature."
"It appears that he is recovering nicely, and there is a chance he will be back," the manager said.
Anyway, "We're still trying to win as many games as we can" is not something that a manager should ever really have to say, probably. But back to the crazy idea that Jeff Francoeur is out of the Mets' lineup.
— it might behoove them to play their hottest hitter as much as possible.
This article was written on Aug. 10. At the time, Frenchy was 6 for his last 20 with 2 dingdongs. Blisteringly hot! Before that, he'd been a somewhat chilly 1 for his last 19. After the article was written, he was a frigidtastic 2 for his next 24. Through Aug. 31, he was 21 for 108 for the Metskies after the ASB, putting up a polar-bear's-extremities-style .194/268/.306 line. He is terrible at hitting.
When Mr. Beltran returned to the active roster last month, Angel Pagan moved from center field to right field to accommodate him, relegating Mr. Francoeur to a part-time role. Mr. Francoeur wasn't pleased that he was no longer a starting player, but it was difficult for him to argue. Mr. Pagan leads the Mets with a .311 batting average. Mr. Francoeur is still hitting just .241 with a less-than-stellar .294 on-base percentage. "That's the frustrating thing," Mr. Francoeur said Sunday. "Last time, I understood. I don't understand this one."
Perhaps Mr. Sielski should explain to Mr. Francoeur that Mr. Francoeur's WAR, at the moment he was traded to the Rangers, was a perfectly humiliating 0.0, and that Mr. Francoeur is terrible at both hitting baseballs and not swinging at baseballs, and that one 6-20 stretch does not make up for like 400 other PA with a .288 OBP, which absolutely murdered his team's chances of scoring runs. Would that help Mr. Francoeur and Mr. Sielski understand what Mr. Tremendous and Mr. Everyonewithabrain are talking about?
Mr. Francoeur doesn't hide his desire to be an everyday right fielder. His agent, Molly Fletcher,
— who singlehandedly proved that women can do everything men can do in the world of sports agenting by getting the Mets to pay Mr. Francoeur $5 million to play terrible baseball for a year —
has contacted Mets general manager Omar Minaya and asked about the possibility of moving Mr. Francoeur to another team where he might play more, Mr. Minaya confirmed.
Minaya obliged, moving him to the Rangers, who promptly benched him repeatedly, because he is terrible at hitting.
Mr. Francoeur is making $5 million and is arbitration-eligible at season's end, and the Mets are unlikely to tender him. "They haven't directly said that to me, but that's the message being sent," Ms. Fletcher said.
You know who sent that message? Jeff Francoeur's 0.0 WAR. "Fuck you, concept of good baseball!" yelled Jeff Francoeur's 0.0 WAR, while lighting its $5 million check on fire and using it as a torch to burn down the Mets' hopes of competing in the NL East.
Mr. Francoeur is well-liked among his teammates. Mr. Manuel said Sunday that he wanted to keep playing Mr. Francoeur "as much as possible, bringing those intangibles."
"Yes, this poison I'm drinking does strip away the membranes protecting my esophagus and dissolve my organs," said Mr. Manuel, "but it's got a very pleasant, oaky nose."
There is still time for Mr. Francouer to blossom in his late 20s, of course. "I have to remind myself sometimes that I'm only 26," he said. "I hope to keep going and get to 200 home runs."
You think anyone will care about your 200th home run? Cristian Guzman is only 11 triples away from 100. Something tells me we'll be a litt-tle more concerned with that in the coming decade.
[Author's note: in his first 15 games with the Rangers, Frenchy was benched 10 times, but in the five games he did play he went 7-17. All singles, sadly — still waiting on that magical No. 100. If you want constant updates and the latest breaking news on whether or not Frenchy has hit his 100th home run, invent a news service that covers stupid shit no one cares about and follow its Twitter feed.]
[Author's note #2: It has come to my attention that Mr. Sielski asserts that the framework of his article was intended ironically. However, it sure doesn't read that way to me (bad editing maybe?), and in any case, much like sexual harassment in the workplace, in sports journalism, intent is irrelevant.]