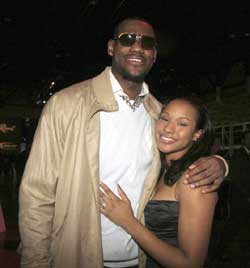 We would like to formally congratulate LeBron James who, just in time for Game 4, became a father for the second time at 12:15 this morning. The kid's name is "Bryce Maximus James," which is exactly what our parents once considered naming us.
The birth takes care of that nagging worry that LeBron would be distracted from the stirring NBA Finals because his girlfriend was having their second child; now he will be able to focus on Game 4 tonight, helping to keep up the level of intrigue and entertainment value we have come to expect from this series.
Expect to hear about this subplot about 50 times tonight, or until you fall asleep, whichever comes first.
LeDad [The Sports Elitists]