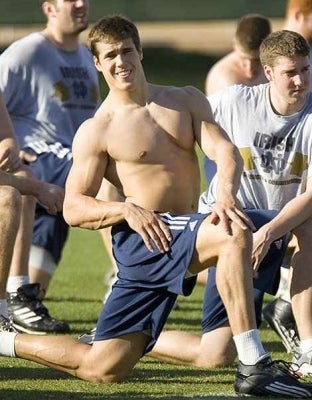 AJ Daulerio's Cultural Oddsmaker runs every Friday. Email him to let him know what you think.
Five years ago, there was a story on Jim Romenesko's Media News about a reporter named Patti Shea, who caused an enormous uproar in the world of stuffy journalism for an article she wrote for the Santa Clarita Signal about spending a day in the Los Angeles Dodgers locker room as a credentialed sports reporter. Shea decided to have a little fun with the assignment and went into ga-ga mode describing the various attributes of then Dodgers Eric Karros and Shawn Green, brazenly kicking journalistic mores out the window and, possibly, not doing so much for California female sports writers' locker room accessibility. Remember, at the time Romenesko's Media News was one of the only — and arguably, most popular — media websites at the time, heavily read by thousands of working journalists worldwide who worshiped it and reveled in having their heavy-handed, inverted-pyramid soaked letters published on this site.
Of course, they attacked Shea and her paper mercilessly, calling them an "embarrassment" and "pathetic" for the piece. And, Shea, for a couple days in late August 2002 was probably one of the most talked about reporters in the world.
Now, during this time in 2002, I was diddling at a dull trade publication, bored at work, obsessively checked Jim Romenesko's Media News. And having a letter published and critiqued by a lofty group of self-important journos was very important to me at the time. But, my body of work consisted of having a story published in Chicken Soup for the Golfer's Soul, Montgomery County Weekly newspapers and being managing editor of "Health Care Finance" magazine, which left me no chance of ever writing something worthy of a Romenesko link or letter, for that matter. But this day, this story, was one that I knew I could chime in on — and completely undermine. I conjured up a made-up gay journalist named "John Defla" who worked as a sports reporter for a small, ahem, St. Louis daily newspaper and sent in my letter and ... it was posted.
"As a gay journalist, admittedly, I have some trouble keeping my eyes in my notebook when I'm interviewing athletes in their jocks and small white towels. I've never put it in print how so-and-so looks soaking wet out of the shower, but believe me I do take notice. Ms. Shea's a human being in addition to being a journalist. So, for her to get a little flush was not a surprise—especially next to hunky Shawn Green, who I myself have a photo of in my bedroom. So, call off the dogs. There are plenty of sports journalists who ogle the naked athletes. It's one of my favorite perks of the job."
Now, this letter prompted a flurry of responses as well (mostly negative), making for one of the most enjoyable afternoons of 2002. One person who e-mailed me was a person named "Troy" who told me he "would kill" for my job because he fantasizes about players all the time. Then he breathlessly asked if I'd ever seen Brady Andersen or Gabe Kapler nude. I responded, of course:
Yeah, I've seen Brady. He's not that cute in person. Plus he has very weird hair patterns on his lower back. It's a half ring of very dark, very bushy hair that's inconsistent with the rest of his body. It's

almost simian-like. I'm glad he got cut by the Indians. He was a joke anyway. But, Gabe, good God, is he fucking hot. His thighs are so muscular. Everytime he takes a step you can see the quads tremble beneath the skin. It reminds me of the way baby alligators release from their birthing shells. Quick little pops against the skin. Mmmmm...
Right now, I have a major crush on Minnesota Twins set-up man Latroy Hawkins. One time when they were in town to play the Royals he gave me a piggy back ride through the showers. All the other guys were a little freaked out. But, Doug Mientkiewicz was having a blast! He was blowing bubbles and trying to pull Latroy's pants down and kept rubbing Icy Hot all over my back everytime we came near him. It was pretty wild.
Who do you like, Troy?
This went on for hours, and regardless of how ridiculous my stories were — towel-snapping fights with Antonio Alfonseca; Indian wrestling with the Boone brothers — Troy ate it up.
The reason this story came to mind: The extremely homoerotic pictorial/wordage in the recent issue of Men's Health about Cleveland Brown's quarterback Brady Quinn. (Not surprisingly, this article is in MH, whose editor Dave Zinczenko, is himself about two more crunches and a man purse away from being Kathy Griffin's full-time assistant.) Sports by Brooks then linked to a Google search proclaiming Brady Quinn the next gay blog obsession. If only I still e-mailed with Troy. He could probably help me out with this column.
So, this week, I'm polishing up my moose knuckles, greasing up the glory hole and placing odds on the next athlete to be drooled over by the momers.
Rainbows! Cock! Jump!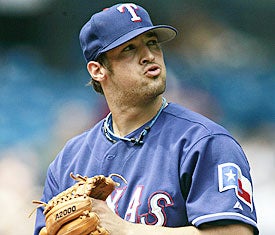 C.J. Wilson, Texas Rangers: 4/1
Did anybody else know that the Texas Rangers, collectively as a team, are regarded by one columnist as the "hottest" team in baseball? It makes sense: Michael Young, Ian Kinsler, Mark Teixera ... Akinori Otsuka. STUDLY. However, C.J. Wilson's redneck dipshit routine is probably most appealing to homosexual nation. Problem is, if C.J. ever found out he'd probably go all Jenny Jones Show on one of his admiring male fans.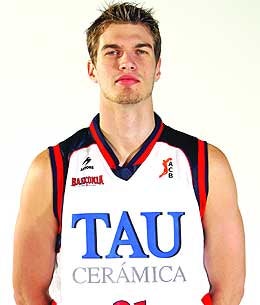 Tiago Splitter: 5/1
Although basketball players rarely get the Marky Mark treatment from gay sports fans, there are a few exceptions. Call it the Szczerbiak Rule. And Brazillian hoopster Tiago Splitter is best representative of that in this year's upcoming draft. Long, lanky, blonde hair, and European in all the right places (puke), Tiago's destined to be the shower fantasy of some gay sports fan the minute his draft profile pops up on the screen. If Tiago's agent is smart, he should parlay his popularity into a lucrative sponsorship contract with a flavored hand soap company.
"Hot Saw" Harry Burnsworth: 10/1
It's amazing that the Great Outdoor Games haven't caught on with the gays. Especially gays who enjoy brutish, hairy men throwing around axes and lumber and tossing dogs in the water or whatever else it is they do at these events. If there's one man who could turn some heads, it's probably "Hot Saw" Harry Burnsworth, who's got the gym teacher looks to go along with a nickname that launched 1,000 chubs, "Hot Saw." Say it again:"Hot Saw Harry Burnsworth". Now, who wants a hand job?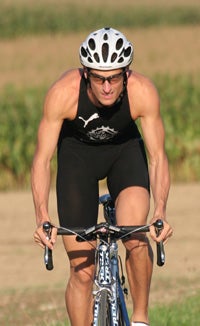 Sebastien Gacond: 1/8
Obviously, you'll be paying a lot for Mr. Gacond because the man is already gay. Sebastien Gacond is so gay he uses Astro Glide to water his pansies. Sebastien Gacond has a pet gerbil named "Dildo." Sebastien Gacond is so gay he puts on a cucumber mask before he blows a guy. Sebastien Gacond is so gay he poops dick on a daily basis. See? Gay as rain.