The Steelers have arguably the most dynamic offense in the NFL. They also have one of the league's uniquely talented quarterbacks in Ben Roethlisberger. Yet Pittsburgh has won eight in a row, including Sunday's thumping of the Dolphins, despite some remarkably inconsistent play from Roethlisberger. The Steelers' hopes of beating the Chiefs this weekend—and winning the two potential games beyond that—depend largely on what they get from Roethlisberger. His 2016 track record suggests there's absolutely no telling what that may be.

Roethlisberger has had a Hall-of-Fame career that already includes three conference championships and a pair of Super Bowl rings. And by most standard stats, he was pretty solid in 2016: tied for fifth in passing touchdown percentage (5.7), sixth in passing touchdowns (29) and net yards per attempt (6.99), ninth in passing yards per game (272.8) and adjusted net yards per attempt (6.98), and 10th in Total QBR (66.5). But upon closer inspection, Roethlisberger's overall performance has been wildly up and down—from game to game and from half to half, or even quarter to quarter—even as he finally has close to a full complement of healthy weapons around him, and as he's seen less pressure than he has at any point in his career. Big Ben pretty much makes no sense this year.
First, the good. Now in his 13th season, Roethlisberger has made a marked improvement as an all-around quarterback since his early days as a so-called "game manager." One of Roethlisberger's greatest gifts has been his ability to improvise and to extend plays. He's also built like a linebacker—6-foot-5, 250 pounds—and for much of his career, he did this even as he endured the sort of physical punishment that might have ended most quarterbacks' careers. From 2006-09, Roethlisberger was sacked at least 46 times every year; this season, Tyrod Taylor's 42 sacks allowed led the league, while Roethlisberger was tied for 32nd with just 17. Roethlisberger occasionally still tries to make some sandlot plays. But since 2012, when the Steelers brought in Todd Haley to coordinate their offense, there's been an emphasis on efficiency—both to preserve Roethlisberger physically, and to keep up with this decade's trend of attacking the entire width of the field by spreading defenses out and getting rid of the ball quickly.
Roethlisberger is doing more to diagnose defenses before the snap—a skill that's increasingly in-demand for quarterbacks as a way to counter defenses that seek to disguise their blitzes and coverages. Roethlisberger has so developed this aspect of his game that back in August, Andy Benoit of The MMQB not unreasonably called him "the most underrated quarterback in the NFL." More from Benoit:
"As I've evolved I've been able to recognize and read defenses, change a play if necessary," Roethlisberger says. "I've gotten comfortable enough in this offense that it even gets down to, Okay, I'm looking at this safety. What's he doing? What are his eyes telling me? I think that's just the comfort level with our offense that I can afford to do that."
Reading not just a safety's positioning, but something as detailed as his eyes, is one element of 500-level quarterbacking. Another is manipulating a safety with your own eyes—or with your body language as a passer. Roethlisberger has become very adroit here, controlling defenders with his vision, with little rolls of the shoulder, subtle tilts of the helmet and, of course, various forms of his patented pump-faking.
G/O Media may get a commission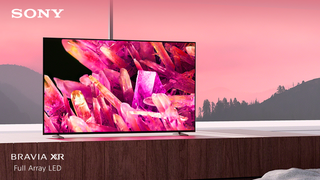 $400 off
Sony 55 Inch 4K Ultra HD TV X90K Series
This evolution—plus Haley's increasing emphasis on three-receiver and two-TE sets, sometimes simultaneously—has coincided with the addition of playmakers Antonio Brown and running back Le'Veon Bell, transforming the Steelers from their run-first roots into a wide-open, freewheeling offense that's as modern as any in the NFL. At the same time, however, the Steelers have hardly turned Roethlisberger into a check-down artist. During the 2016 regular season, Roethlisberger led the league in ALEX, a Football Outsiders metric that measures the average difference between a quarterback's throws on third down and the distance needed for a new set of downs. And as this chart of his throws in recent seasons on balls that travel at least 20 yards in the air shows, Roethlisberger is still airing it out plenty—and with success:
(Tom Brady, by contrast, attempted just 49 deep throws this season. I point this out not to suggest Roethlisberger had a better season than Brady—he clearly didn't—but to show how aggressive Roethlisberger continues to be, even within the confines of Haley's more efficient system.)
So what's the problem, then? Before the Steelers' easy win on Sunday against Miami—more on that in a bit—Danny Kelly of The Ringer noted Roethlisberger's manic fluctuations in play. He even presented this handy chart to illustrate it:
Roethlisberger always had some degree of inconsistency to his game. It's just way more pronounced now.
Per Pro Football Reference, Roethlisberger had four games this season in which his adjusted yards per attempt was below 5.0. Among quarterbacks who qualified for the postseason, only Eli Manning (four) and Brock Osweiler (six) had that many. (Dak Prescott and Russell Wilson each had two; Aaron Rodgers and Derek Carr had one; Matt Ryan and Tom Brady had none.) And while Football Outsiders had the Steelers' offense ranked eighth in DVOA, it was 31st in variance—ahead of only the sad-sack Rams, who ranked last in offensive DVOA.
Roethlisberger's inconsistencies have even manifested themselves within games. On Christmas Day against the Ravens, one of the league's top defenses, Roethlisberger was spectacular in the fourth quarter. He led three touchdown drives by going 14-for-17 for 162 yards and a passer rating of 146.1—and two of those incompletions were spikes to stop the clock on the final drive. But in the first three quarters, Roethlisberger was trash. A heartwarming Christmas tale: I'm a Steelers fan. In a group text during the Ravens game with two of my cousins, one of them said, "He's been inaccurate for weeks." And by the time Roethlisberger threw the second of his two third-quarter interceptions deep in his own territory—leading directly to 11 Ravens points—the same cousin texted, "Forget inaccurate. He plain sucks!" The other replied with, "He has to be in someone's pocket. He can't be this bad." Oh, tidings of comfort and joy.
There's data to back up how incredibly inconsistent Roethlisberger has been. In the third quarter this year, he's completed just 54.2 percent of his passes, with four touchdowns, five interceptions, and a passer rating of 68.6. Yet in the first quarter, Roethlisberger has a completion rate of 70.4 percent, with 11 touchdowns, three interceptions, and a passer rating of 118.8. And in the fourth quarter, he's completed 67.6 percent, with 10 TDs, three interceptions, and a 107.8 rating.
That Ravens game was at home, but Roethlisberger's numbers at home versus on the road have been extremely divergent, too:
Sunday's game against the Chiefs, of course, is in Kansas City.
Roethlisberger has relied heavily on his two playmakers, Bell and Brown. Some of this is because of significant injuries to the receiving corps—Markus Wheaton is on IR, and Darius Heyward-Bey, Ladarius Green, and Sammie Coates have all missed time, and Green didn't play last week—plus Martavis Bryant's year-long suspension. But some of it is just because Bell and Brown do a lot of heavy lifting. Bell, healthy for the postseason for the first time in his three-year career, finished third in the league in yards from scrimmage (1,884) even though he was suspended for three games and was rested for the Week 17 finale. Brown was second in catches (106), fifth in receiving yards (1,284), and tied for second in touchdown receptions (12). Bell and Brown accounted for 42 percent of all of the Steelers' targeted throws. Bell led the league in yards after catch, while 103 of Brown's 122 combined receiving yards on his two TDs against the Dolphins on Sunday came after the catch. And while it's true Roethlisberger completed his first 10 passes against Miami, in the final 31:30 he was just 3-for-8 for 15 yards, a sack, and two interceptions.
That inaccuracy my cousin mentioned? That can be quantified, too: According to Football Outsiders, Roethlisberger led the league with 13 dropped interceptions to go along with his 13 actual interceptions (in 14 games). And according to Pro Football Focus, 4.72 percent of all of Roethlisberger's throws were considered turnover-worthy, which ranked 27th out of the 29 quarterbacks with at least 400 pass attempts. The irony in all this is that Roethlisberger is being protected better than ever. When he went to the Super Bowl in 2010 and won it in 2008, he played behind an offensive line with an adjusted sack rate that ranked 29th. This year, the Steelers' O-line ranks fourth. Roethlisberger was sacked a career-low 17 times during the regular season, and per PFF, he saw pressure on just 23.2 percent of his dropbacks—down from 29.3 percent in 2015.
Here he is, with a clean pocket, throwing into double coverage against the Bengals in Week 15:
Here he is, same game, missing Ladarius Green with a high throw into coverage:
Here he is forcing a ball to Brown in the end zone despite double coverage:
Against the Bills in Week 14, Roethlisberger threw two brutal interceptions. The first one came in the red zone:
The second one was just, uh ...
Here had all day to throw, with Green breaking off his route with no one in front of him to the outside. And yet:
In that Ravens game on Christmas, Roethlisberger's first interception was a terrible misfire:
On another play, he had time to improvise, and tried to direct it, only to do this:
It's difficult to say exactly what's up with Roethlisberger, and why he's making so many bad decisions and forcing so many poor throws, even as he's still showing signs of brilliance and taking fewer hits. He sustained a knee injury in Week 6, but after missing one start and getting a bye week to rest, he mixed in great games against the Cowboys, Colts, and Giants around stinkers against the Ravens (the first time), Browns, and Bills.
Roethlisberger's current fluctuations are in some ways a reflection of his career arc. In his first five seasons, he complemented a strong running game by averaging just 26.4 pass attempts per game. But from 2009-15, he grew to become the fulcrum of the offense, throwing an average of 35.5 times per game. This year, he averaged 39.6 passes in his first eight starts. But after Bell got back from his suspension, it was Bell who steadily became more of the offense's focal point, and Roethlisberger averaged just 32 passes in his final six games. He only attempted 18 throws against Miami on Sunday.
There's always been some feast-or-famine quality to Roethlisberger's game. The Steelers' offense had an even higher variance (12.1 percent) in its 2005 Super Bowl-winning season than it does this year (10.6 percent), though Roethlisberger missed four games that season due to injury, including two that were lowlighted by the final encore of the Tommy Maddox Experience. Roethlisberger famously had an awful showing in a winning effort in Super Bowl 40 (a 22.6 passer rating), but that dud will always overshadow how outstanding he was in the three playoff games the Steelers won to get there. In 2006, he led the league in interceptions (23). In '07 and '09, he led the league in yards lost due to sacks. In '08, his other title-winning season, he threw 15 interceptions to 17 touchdowns, but he also engineered five fourth-quarter comebacks during the regular season, then did it again with an 88-yard stampede in the final 2:30 of Super Bowl 43, an all-time drive punctuated by Santonio Holmes's astonishing catch (on a laser-precision throw). To some degree, inconsistent is what Ben Roethlisberger is—albeit with scintillating highs, and lows that never really come close to bottoming out. He has, after all, been to the playoffs nine times, with 12 victories.
The Steelers played the Chiefs in September, and Roethlisberger had his best game of the year in a 43-14 rout. But the Chiefs are greatly improved since then, and they wound up leading the league in takeaways with 33, including eight in their last three games. Roethlisberger hurt his ankle late in the Miami game, but he says he's fine. The Steelers better hope he is—and not just physically.