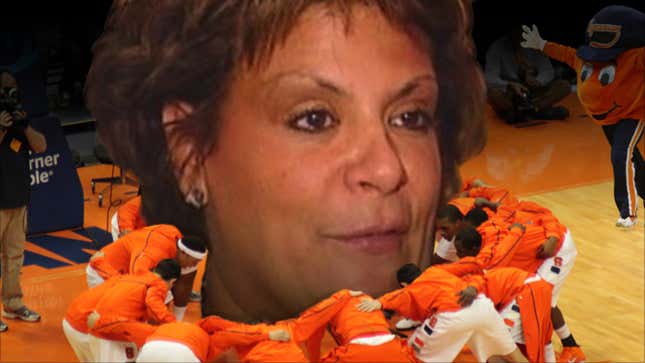 One of the stranger aspects of that taped phone conversation between former ball boy Bobby Davis and accused molester Bernie Fine's wife, Laurie, is the apparent revelation that Davis had a sexual relationship with Laurie. He's not the only one—and there might be a sex tape to prove it, a media source tells us.
Can the Florida Panthers make a comeback? | Agree to Disagree
Another source says that at least one media outlet has evidence that Laurie, now 53, had sex with players on many of Jim Boeheim's squads. This was happening as early as 1982the 80's, a third source says. "It was a rite of passage for some to be with Bernie's wife," one of the sources says. As for the sex tape, it apparently features Laurie and another player, and it's been shopped around for years.
If any of Laurie's conquests decide to go public, it would be very bad for the Fines—and it could very well mean the end of Boeheim's time at Syracuse. After all, this stuff would've happened on his watch.
Those of you who'd like to share details about Laurie Fine's relationships can reach out to us at tips@deadspin.com with "Laurie Fine" in the subject line. Anonymity guaranteed. Unless your name is Derrick Coleman.
Image by Jim Cooke