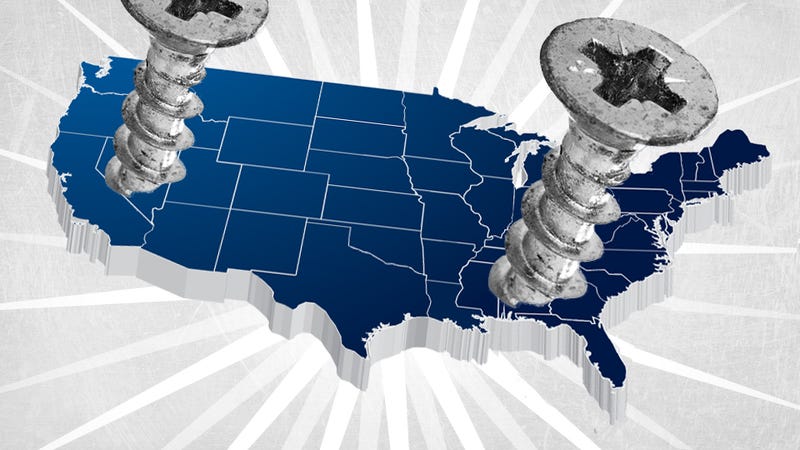 The NFL's regional programming rules are famously byzantine, but luckily the506.com cuts through the bullshit for you, providing weekly maps that allow us to answer the only question that really matters: Which fans are the most screwed this Sunday?
Week 17 winner(s): Huntsville, Ala. (early) and Winnemucca, Nev. (late)
With no Thursday Night Football, Monday Night Football, or byes, all 32 teams will play this Sunday. Unfortunately, 17 of these teams have already been eliminated from the playoffs. The Falcons have clinched home-field advantage. Nine playoff teams are playing for seed, which is important, I guess, but not particularly interesting. Only five teams are playing for keeps this Sunday, and since Cowboys-Redskins got flexed into the night game we're left with three meaningful games in our afternoon schedule. Out of 15.
To accomodate the additional games, both CBS and Fox are granted a doubleheader, leaving us an extra map. We too like to spread the love around, so we went ahead and picked both an early-round and late-round "winner" this week. Map time!
Fun fact: The Titans rank exactly 25th in both yards per game and yards per game allowed, while the Jaguars rank exactly 31st in these categories. Crazy coincidence, right? Anyway, these teams are bad and this game will be bad.
Outside of Huntsville, pretty much the rest of Alabama gets Texans-Colts. Houston needs the win to hold on to a first-round bye, while the Colts have already announced that they won't rest their starters, and the Texans can go fuck themselves. Should be fun.
Through Week 11, the Buccaneers were 6-4 with a couple exciting wins under their belt. Then they dropped two tough games to the Falcons and Broncos, and everyone was all, "They still have a shot!" Then they dropped three mores games by a total of 58 points to teams with a combined record of 18-26-1. I nominate the Buccaneers as the official cocktease of the 2012 NFL season.
On to the late games! If the Texans beats the Colts in the early round—and Vegas seems pretty confident that they will—Dolphins-Patriots and Chiefs-Broncos will decide who gets the second bye for the AFC. Raiders-Chargers will likely decide whether Norv Turner gets dramatically fired on Monday or more quietly fired in the middle of the playoffs. Exciting!
Winnemucca, about a six-hour drive from Oakland in central Nevada, gets stuck with the worst of these three uninspiring games.
In the very first "Who Got Screwed?," I predicted that the Vikings and Cardinals, then a combined 8-4 and about to play each other, would end the season on an 0-18 streak. I was wrong about the Vikings: a win over the Packers and they're in the playoffs. I was almost right about the Cardinals, who've gone 1-8 in their last nine. This week they'll be giving Brian Hoyer his first career start against a 49ers team that still has a shot at a first-round bye. Sorry, Winnemucca!
As we approach the new year, it's time for some self-reflection and forgiveness. Join me next week as we break down the geographic patterns that these NFL maps follow, and identify the ways that they—and it's weird to type this out—often do a pretty good job. More importantly, we'll grade all the games and retroactively determine a "Who Got Screwed?" winner for the 2012 SEASON!