A guide to the best and worst of the NFL slate (and to which fans are stuck with the most of worst). Maps via 506sports.com.
Last week's winner, Wheeling, West Va., got to watch a big Browns upset and a Bills-Jets game that was kind of fun (in the way that sloppy but contested games can be fun sometimes). Fingers crossed that more shitty games end up being watchable this week, because it might be the weakest slate we see this year. Here are your Week 4 NFL viewing maps:
CBS
Unwatchable
Pittsburgh at* Minnesota: Not only does most of the United States have to watch this terrible game between winless, depressing teams, we're also making an entire other country both host and watch it.
G/O Media may get a commission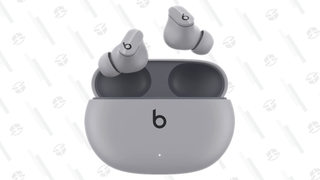 Indianapolis at Jacksonville: The Jaguars put up 17 points last week, more than seven professional football teams, which just goes to show that you can really get the sticks moving once you fall behind 31-0 with 11:41 left in the third and the other team just kind of coasts.
Meh
Baltimore at Buffalo: There was a point in the Bills game last week that I was rooting against their red-zone offense in the hope that they might beat the Jets 21-20 on seven field goals. Alas, no such luck.
NY Jets at Tennessee: This game was bordering on unwatchable, but the Titans are getting it done with good rushing and a not-horrible defense, and Geno Smith bombs the ball sometimes. Watch this game end up 7-3 or some bullshit anyway.
Cincinnati at Cleveland: The Browns beat the Vikings, thanks to some pretty good quarterbacking out of Brian Hoyer, but more importantly BROWNIE THE ELF IS BACK. The Bengals did something last week but who care because BROWNIE THE ELF.
Must-See TV
Yikes.
Fox: Early
Unwatchable
Arizona at Tampa Bay:The Mike Glennon era has begun.
NY Giants at Kansas City:Watch Alex Smith pick apart the Giants' struggling secondary with a series of dagger checkdowns.
Meh
Chicago at Detroit: It was kind of a bummer to hear all the "Can the Bears make it 4-0?" talk this week, because everyone knows damn well that they started 7-1 last year and still managed to miss the playoffs. Expect them to start 5-0 and finish the season 3-13 somehow.
Seattle at Houston: The Texans managed just nine points against the Ravens, whose porous defense gave up 49 points to Peyton Manning in Week 1. The Seahawks have surrendered only 27 points all year, 17 of which came during junk time against the Jags.
Must-See-TV
Not the best week of football games.
Fox: Late
Unwatchable
Washington at Oakland: The one fun thing about the Raiders suffered a serious concussion last week, which means either A) he won't play, and this game will suck, or B) he will play, and this game will suck because watching a player take the field who doesn't remember the ending of the game he got knocked out of six days ago will make you want to vomit.
Meh
Philadelphia at Denver: The flip-side of the quick-attack Eagles offense is that, when it's working, they score quickly, and the other side spends more than half the game in possession of the ball. Representing the other side this week is Peyton Manning–let's see if he can get something going!
Dallas at San Diego: Trailing late in the fourth, Tony Romo marches his offense down the field and hits Marcus Gilchrist for a decisive, game-ending interception. But with 1:37 left on the clock, did the Cowboys leave too much time for Rivers to orchestrate a game-ending interception of his own?
Must-See TV
Patriots at Falcons is your night game, and Dolphins at Saints is on Monday. Those sound pretty good! Maybe go to the park Sunday afternoon, or take your mom out to lunch or something.
---
Who's Getting Screwed?
This week's winner is America (and also England). More narrowly, it's Roanoke, Va., which gets to watch Pittsburgh at* Minnesota, NY Giants at Kansas City, and Washington at Oakland.
Most of the country is getting stuck with that terrible Steelers-Vikings game, but why the 0-3 Giants are getting broadcast so far South is beyond me. You can be excused for thinking that southern Virginia might be rooting for Washington, but they're mostly not, so Raiders-'Skins probably isn't getting too many Roanokers jazzed up unless they have a thing for watching promising young QBs get rushed back from injury way too quickly.