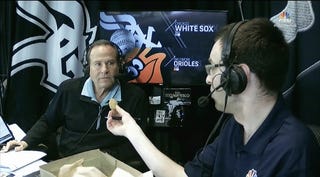 As the Chicago White Sox were beating the hell out of the Baltimore Orioles—a bullshit team favored by Deadspin staffer Laura Wagner and Gizmodo Media Special Projects Desk deputy editor Tom Scocca—play-by-play man Jason Benetti offered a fried pickle to color man Steve Stone, who refused to enjoy it.
"Our research interns were just jamming along during the break on our discussion about water polo," Benetti said later on in the game.
Disclosure: The author of this piece has been provided Gordon Beckham's used footwear by the Chicago White Sox, and has been sent a Hawk Harrelson alarm clock by a White Sox enthusiast. His opinions are his own.