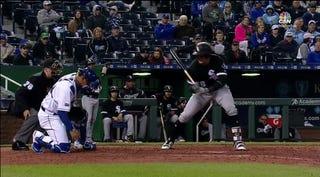 One of the big surprises of the young baseball season has been Chicago White Sox outfielder Avisaíl García—sold to fans of the South Siders upon his acquisition as the second coming of Magglio Ordóñez, and in reality more like a butt—hitting like a god. He came into tonight leading the league in batting average, and hitting a robust .382/.433/.629 for the first-place Sox.
After weakly striking out against some Kansas City Royals guy in the fifth inning of what remains at press time a scoreless game tonight, he broke his bat like a butt.
UPDATE, 9:56 ET: The game is no longer scoreless; the Royals now lead 1-0.
Disclosure: The author of this piece has been provided Gordon Beckham's used footwear by the Chicago White Sox. His opinions are his own.