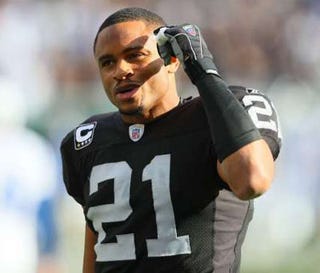 As bad as things are going for the San Francisco 49ers this season, they aren't even close to being the most dysfunctional football team in the Bay Area. Just how bad are things in Raiderland, on a scale of 1 to Armageddon? Cornerback Nnamdi Asomugha (pictured) and safety Gibril Wilson are now talking mutiny, and they never say anything. When the Raiders released two-time Pro Bowl cornerback DeAngelo Hall on Wednesday, all bets were off, apparently. Expect to see Al Davis set adrift in a dinghy with a sextant and a liter of rum by Saturday. From the San Francisco Chronicle:
"I'm not on board with what happened to DeAngelo," said Asomugha, a defensive team captain. "I don't agree with what's going on. ... You can only bite your lip and play football." "This is a soap opera over here," Wilson said. "I've never been in a situation where you cut one of the best players. That's strange to me. It's almost like you're throwing in the towel."
If the place doesn't burn to the ground before the end of the season — no safe bet — prepare for the reins of power to be handed over to ... Jim Harbaugh. That's according to Tim Kawakami of the San Jose Mercury, who says it's a good chance that the current Stanford coach will take over next season.
My source, who has been very reliable in the past and yesterday repeated the Harbaugh-Raiders talk I've heard for almost a year now, only had one caveat: "Everybody knows Al loves Harbaugh, but why would Harbaugh want that job? He could wait at Stanford a little longer and get a real job." But here's where I can add: Harbaugh loves Al. That's what makes this magic.
Of course I was hoping for Jerry Glanville. Oh well. Raiders Halfway Through A Nightmare [San Francisco Chronicle]