The Mighty MJD's Smorgasbord runs every Monday. Do enjoy.
• Awesome ... someone brought their baby to the bar with them today. I'm going to estimate the age of the child at 2, though I'm terrible at gauging such things. You know what I am good at, though? Teaching children profanity. I've sold instructional videos on how to get 18-month-old babies to say things like, "Toss my salad, dickwad." I'm great with kids, what can I say? Today, I'm making it my mission to have this child's first words be "Tom Brady is an asshole." I think the parents deserve it. A baby in a sports bar on a Sunday ... is nothing sacred?
• Kenny Mayne gets some chuckles for his Countdown segment with Marshawn Lynch, detailing a typical night out on the town for Lynch in Buffalo: Applebee's, then Dave & Busters, and then, if it's a really crazy night ... back to Applebee's. This has to make the Bills a very attractive option for potential free agents.

• Tampa Bay and Detroit are not playing nice. Someone's got a grip on someone else's facemask, and a bunch of other guys are standing around yelling and pointing like relief pitchers. Come on, boys ... don't fight around Jon Kitna. I think it's time for Kitna to step in and organize a prayer circle.
• Donte Stallworth hauls in a Tom Brady pass, and then some of the Magical Brady Pixie Dust that Tom's fingers left sprinkled on the ball somehow turn Stallworth into a great open-field runner. A couple of nifty moves later, Stallworth is in the endzone, and no, the Patriots are not fucking around today.
• Some exciting news at the bar, too ... the bar has a new guy in charge of the TVs. This has a way bigger effect on my life than it should. The old guy got fired ... I'm not sure why. I'd like to think that he got fed up with the quality of football in last Monday night's game, combined with the quality of Tony Kornheiser's commentary, and just snapped and said to himself, "Fuck it, I can't take this anymore," and put "Gay Nursing Home Orgies, Volume 4" on all 9 televisions, locked everyone in, and screamed, "NO! If you're willing to watch this disgusting game, then you'll watch this filth, too, dammit."
G/O Media may get a commission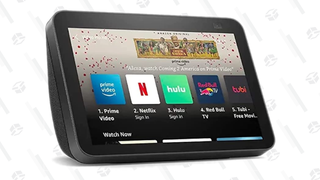 • New TV Guy has some first-day jitters, though. The Giants/49ers game is on in standard definition, and with a 3rd and goal at the 4 yard-line, this guy decides that right in the middle of Eli Manning's snap count is the perfect time to switch to the HD feed. We see Eli take the snap on a slightly fuzzy screen, a plain black screen for a few seconds, and then Amani Toomer celebrating in crisp HD. Poor start, new TV guy. Just poor.
• The new college football polls are out, and Ohio State is #1, followed by Boston College at #2. When's the last time the top two teams in the polls were almost universally acknowledged to not even be close to being the actual best teams in the nation? Fantastic system we've got here. And that whole "See, it makes the regular season so important!" argument is gaining steam today, too, because, you know, the NFL has a stupid old playoff system ... and clearly, TV ratings indicate that no one cares about the regular season when there's a playoff involved. Just so little interest in the NFL these days.
• Marshawn Lynch, fortified by the nutritious goodness of Tyler Florence's delicious new Applebee's concoctions, is having a pretty good go of it against the Baltimore defense early in this one. The Bills lead as we approach the end of the 1st.
• Shaun Alexander stars in an NFL.com commercial alongside Joey Fatone ... I don't know if the NFL people were trying to match two guys at similar career stages, but they certainly did.
• Cleo Lemon scores on the quarterback draw, taking it straight through the middle of the Pats defense, cutting the Patriots lead to 14-7. Cleo Lemon lays down for no man, bitches.
• Naturally, the Patriots take the ensuing kickoff back for a touchdown. But that's a mistake, because it puts the ball right back in Cleo Lemon's hands.
• Reluctantly, I end up glancing at the Falcons/Saints game every now and then, and every time I do, Warrick Dunn is barreling ahead for a gain of about 1.5 yards. I would love to hear an explanation as to why Warrick Dunn still gets more than double the carries of Jerious Norwood. Of all the things happening in the NFL right now that make no fucking sense, that one might be the most baffling. If it goes on for two more weeks, it's time for the point-shaving investigation.
• Tom Brady goes deep to Randy Moss, who's double-covered by two of Dolphins with about 1/18th of Randy's natural ability ... and Randy's going to wrestle that one away for the touchdown. Tom Brady's a great quarterback and everything ... but it requires very little skill to throw the ball to Randy Moss. You can just identify a moving circular area around Moss, with a radius of about 8 yards ... and if you can get it anywhere in that circle, there's about a 90 percent chance Moss is bringing it in, no matter who else is in that circle with him. 28-7, Pats.
• Kurt Warner's already got two interceptions, just a quarter and a half into his game against Washington. The Redskins pass defense is outstanding, and it's really about a 50/50 chance as to what team's going to end up with the ball when Warner puts it in the air. I think Kurt is just content to throw the ball to anyone wearing dark red and white. Some weeks it works, some weeks it doesn't.
• BREAKING NEWS: Joey Porter has recorded his first sack of the season. And down 28-7, with a record of 0-6, Porter gets up and celebrates with his stupid trademark kick thingie. What a stud this guy is. Joey Porter is a GAME-CHANGER. When he's in the game, anything can — oh, wait, the Patriots scored on the next play.
• It was another big, beautiful bomb to Randy Moss ... very similar circumstances. Double covered, not a particularly well-thrown ball ... Moss just gets it because his body has some odd gravitational force that attracts pigskin like a giant magnet. I don't understand how he does it. Double-coverage is invisible to him.
• Tom Brady, meanwhile, is 11-of-11 with 240 yards, and 4 touchdowns. But I still think Joey Porter's getting the better of that individual matchup.
• Hey, Neil Rackers wants to fight someone. He had an extra point blocked, and then grabbed the facemask of Redskins DB Carlos Rogers. I don't think Carlos Rogers is one of the baddest men in the NFL, but the only guy in the league I'm picking Neil Rackers to win a fight against is Nate Keading.
• The Patriots, leading 35-7, go into the hurry-up offense before the half ... you know, because 35-7 might not do enough to hammer home the point that they're better than the Dolphins. Sure enough, they do score ... it's 42-7 heading into the half. We get it. You're awesome. Leave the poor Dolphins alone.
• The way I see it, Joey Porter has one chance to get himself back in the good graces of football fans everywhere ... it involves his helmet, Tom Brady's knee, and some fragile ligaments and tendons in that knee. Unless he finds a cure for cancer or says something moderately intelligent (equally unlikely), this is the only way I'll ever respect Joey Porter again.
• Scratch that "again" part. I have never respected Joey Porter.
• The Bills have managed three field goals against the Ravens ... not an offensive explosion, but it's more than most teams have done against the Ravens recently. Of course, the Ravens schedule has consisted of home games against Donkey Shit, Mongoose Shit and Whale Shit, while they've gone on the road to battle Mule Shit, Snail Shit, Large Mouth Bass Shit and Chuck Woolery's Shit. But still, the fact that the Bills lead is a surprise to me.
• About 75 Dolphins fans remain in the stadium as the 3rd quarter starts ... I guess some fans don't find the idea of the Patriots running up the score while Ted Ginn runs around not catching passes tremendously appealing. Fair weather pussies.
• Here comes Matt Cassel in for the Patriots ... it looks like he'll play out the half. If he shows any signs of being a good quarterback, I'm going to go into a deep, deep, depression.
• Phew. He is not good. He immediately throws an interception that goes to the house. Thank God ... is it wrong that I find it comforting to know that if something does happen to Tom Brady, that the Patriots will, in fact, be much, much, worse? I just ... I really wanted confirmation on that. I'm glad I have it.
• Ronnie Brown is down on the ground and holding his knee ... which is fantastic, because I was afraid we might have one or two productive running backs in fantasy football this year. Ugh.
• Meanwhile, that pick/TD brought the Dolphins to within three touchdowns, and Tom Brady looks pissed.
• Bills quarterback Trent Edwards drops back, and throws an absolute duck down the field to Josh Reed. Despite the fact that the flight of the ball looked like a wild boar strapped to a rocking chair that was shot out of a cannon, the ball ends up on target. It was like Edwards anticipated not throwing a spiral ... like he decided to just throw it extra hard because he wanted this particular football to spin on its horizontal axis. A bold new strategy.
• This iPhone commercial with the pilot who got the weather check and was able to get his plane to take off sooner ... isn't this more of an indictment of the airline industry than a selling point for the iPhone? A portable device that allows you to check the weather ... amazing. We've only had those for like 10 years. But the people controlling the plane takeoffs don't have the ability to get on weather.com and check the Doppler? This concerns me.
• Byron Leftwich has been injured, it seems ... I'm as shocked as you are. Meanwhile, I can't pinpoint why, but I can't let go of this fondness I have for Joey Harrington. I just really want him to do well ... it feels kind of like watching The Fresh Prince and hoping that Carlton gets laid.
• My amigo Danks has texted me to let me know that there's a "LET'S GO, RED SOX" chant taking place in Miami's stadium right now.
• And Tom Brady's back in the game. A few plays later, it's a touchdown, Wes Welker. Seriously, Joey Porter ... there's nothing left you can do for humanity. Risk the fine, risk the suspension ... go for his knees. It's the only thing you can do to make your life mean something.
• The Ravens have pulled to within 19-14, and here's something I wouldn't have guessed ... Kyle Boller has led five game-winning or game-tying drives in his career. I'd have guessed that number was closer to -4.
• Tim Rattay hits tight end Leonard Pope for a short touchdown pass to somehow bring the Cardinals back to within two points of the Redskins. Curious as to how much faith that earned Tim Rattay among the Arizona coaching staff? The call for the 2-point conversion play was a direct snap to Anquan Boldin that he threw for an interception.
• HOWEVA ... the Cardinals are going to recover this onside kick, and lo and behold, the Buzzsaw have life.
• Meanwhile, on the adjacent TV, the Bucs pull off an awesome onside kick ... they lined everyone in a tight bunch behind the kicker, forcing the defense to line up in a tight ball directly across from them ... and the kicker just beamed one, low and hard, hoping it would bounce off someone ... and it did. That was awesome.
• Here comes Neil Rackers to attempt a game-winner for the Cardinals ... oh, and he just misses. If only he hadn't wasted that energy fighting Carlos Rogers earlier. The Redskins hold on for the win.
• A couple of games have ended, and a couple of TVs have moved to the Tennessee/Houston game, which I could have sworn was 32-7 Tennessee at the start of the 4th quarter. It has, under a brilliant relief effort from Sage Rosenfels (?), turned into a close game. Somehow, the Titans have 35 points under Kerry Collins.
• Oh, dear Lord ... there's the replay explaining why Sage Rosenfels is in the game. Albert Haynesworth engulfed Matt Schaub. Albert Haynesworth performed a complete Haynesworthar eclipse of Matt Schaub. That was breathtakingly beautiful in its brutality.
• Meanwhile ... the Texans recover an onside kick of their own. My God, this is the greatest day in the history of onside kicks ... if you can't recover an onside kick today, you're a pussy. But ... there's a flag down, and this one's getting called back. Dammit.
• And they do it AGAIN. Unbelievable. What's the point of kicking it deep anymore? One hundred percent of onside kicks have worked today.
• Sage Rosenfels drops back, and looks deep for Andre Davis ... alright, this is fucking incredible. Texans vs. Titans from 2007 could end up having its own two-hour special on ESPN Classic in 2047. Davis lays out to snag the ball between two Titans defenders ... a more beautiful catch, I don't know if I've ever seen. The Texans have taken the lead.
• More amazing than the fact that this game is amazing is the fact that the people involved making it so amazing are Sage Rosenfels, Andre Davis, Kerry Collins and Rob Bironas. What were the odds of those four people teaming up to provide meaningful entertainment for you at any point in your life? It would've been a better bet to say that I'd enjoy an episode of Oprah on which Tom Cruise debates Stephen A. Smith on the merits of wearing a cock ring.
• Davis's heroics, however, have left too much time on the clock for Kerry Collins and Rob Bironas, who evidently has seven field goals already today (I started him in two fantasy leagues yesterday, by the way, and it feels like I cheated) ... fuck it, make it eight. That's a record. Titans win.
• Unfortunately, I can't stick around for the late games today, because there are rude, inconsiderate people in the world who schedule things for Sunday afternoons without any consideration for people as selfish as I am.