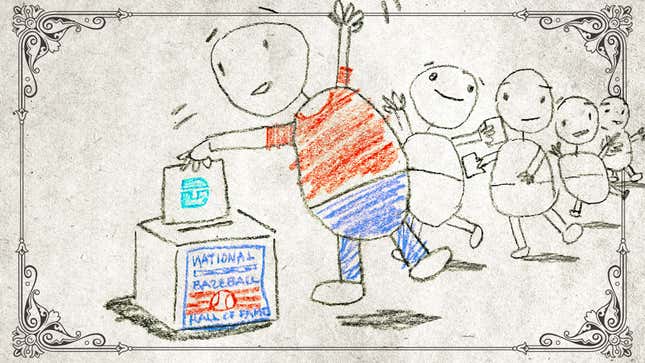 Here it is—your chance to vote in the 2013 Baseball Hall of Fame elections!
To recap, we have purchased a vote from a veteran member of the Baseball Writers' Association of America on behalf of the Deadspin readership, which will vote through the polls below. You're free to vote for or against as many or as few candidates as you wish; the results will be kept hidden for now so as to prevent Hall of Fame officials from cross-checking our results against the ballots they receive and so disqualifying our inside man/woman. Take your time with this. Polls will remain open until 12:01 a.m. on Dec. 29.
Chris Paul should ride the bench next season | Keep it a Buck(et)
[Update, Dec. 23: Certain complications have forced us to move up the deadline to Dec. 26..]
Remember: Any candidate who obtains a majority of the vote will make the Deadspin ballot. If more than the ballot-maximum 10 players receive a majority, the 10 with the highest percentages will be chosen.
Check in with us throughout the month. We'll be running a series of posts examining the merits of each of the candidates, the better to inform the electorate. This is what democracy looks like!
Art by Jim Cooke