« Previous entry | Next entry »
Second-year Carolina quarterback Cam Newton spent his bye week "visiting a haunted house, go-kart racing, watching movies, playing video games and doing plenty of 'self-evaluation.'" These were, presumably, not his only activities; there are enough hours in the day for going to Chuck E. Cheese's and practicing and watching game film. But in an already-lost Panthers season that began, optimistically enough, with a Super Bowl guarantee (the Panther who made that proclamation is out for the year), Newton is learning that when things are going bad between the hashmarks, people actually pay attention to your words and your body language and your off-the-field activities.
Toward the end of last season, the rookie Newton was given a talking-to by Panthers vets, who told him not to sulk so obviously when things don't go well. It was blown off, because very little hadn't gone well for Newton that season. But last month, when cameras caught receiver Steve Smith getting in his face on the sidelines during a blowout loss against the Giants, the narrative changed. The brooding Newton was no longer an aberration, but the norm. And as Carolina losses pile up, Newton's increasingly pointed postgame statements have become ripe for dissection and psychoanalysis.
G/O Media may get a commission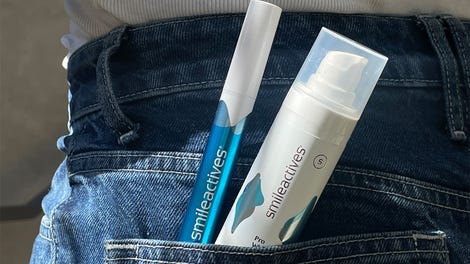 58% off
Whitening Powerhouse Pen & Gel Duo
For the second year in a row, Slate and Deadspin are teaming up for a season-long NFL roundtable. Check back here each week as a rotating cast of football watchers discusses the weekend's key plays, coaching decisions, and traumatic brain injuries. And click here to play the latest episode of Slate's sports podcast Hang Up and Listen.
Yesterday's didn't disappoint. Wearing the comfiest sweater in Charlotte, a flustered Newton was at a loss for answers, but not a loss for words.
"The past couple of games have been the same script, by the same director. It's kind of getting boring. This taste, this vibe—I'm not buying it, man. And I don't know what it is, but something's going to have to change. Something's going to have to change real fast."

[...]

"I'm going to leave this room and I'm going to bring in a suggestion box and I want your suggestions to be in that suggestion box because I sure don't know. I really don't. I wish I could tell you. But the only thing I control, sweetheart, is myself. Offensively, I am the leader of this bunch and we haven't been getting the job done."
This is a normal and healthy response (other than calling the female reporter "sweetheart"). Coming from any other player, these concepts would be chalked up to the frustrations of someone who wants to win. But from Newton—or at least, the Newton of this year—they're taken as evidence of immaturity; as throwing teammates and coaches under the bus; as a player unwilling to own up to his own failings. Maybe it's because the NFL media have gotten to know and to dislike Newton, but the usual script has been flipped. Under ordinary circumstances, it's a good thing when a player is upset by losing—he's a gamer, he's a competitor, he just wants to win so badly. Cam Newton? He's pouting, he's never had to deal with losing in his life, he needs to learn how to lose with grace. ("Instead of acting like an NFL quarterback, Newton is acting like a child," writes ESPN.com's Pat Yasinskas.)
Newton might be a victim of inflated hype. Compare his numbers from this season and last, and they're not markedly different. Yes, this year's are worse in almost every category, but only by the barest of margins.
The difference is that little was expected from him last year, so he exceeded even the most hopeful projections. This year we expected more, and he hasn't delivered. Yet it's not unheard-of for a second-year player to take a step backward. Matt Ryan let his team to the playoffs in Year 1, regressed the next season, and then bounced back better than ever. And by definition, a first-overall pick is going to end up playing for a terrible team. Newton and the Panthers defied the curve in his rookie season, and poisoned all hope of reasonable expectations.
But even if sophomores aren't supposed to put it all together yet, they're not supposed to regress. The blind heave on second-and-goal that gave Dallas's Morris Claiborne an end-zone interception was inexplicable, and just the second Cowboys pick all year. Newton wants suggestions on what to change? How about no more tosses like that?
Things change fast. Think of all the fawning write-ups of Robert Griffin III, another double threat who came into the league with doubters and won them over instantly. Everything you've read about Griffin's poise, and maturity, and skill—all of that was already written about Newton last year. But after just six games' worth of struggles, not even a half-season, Newton is getting the full Vince Young treatment.
There are lots of folks who want Newton to fail. Nearly all of that attitude dates to his brief-but-eventful college career: the legal trouble at Florida, the shady recruiting at Mississippi State, his perceived arrogance at Auburn as the controversy swirled around him. Remember his now-legendary draft scouting report from Pro Football Weekly? At the time it was derided as petty, inconsequential character assassination. With the new-old Newton narrative, it seems almost prescient.
Limited field vision—does not process the passing game. Inconsistent throwing mechanics with a flick delivery—generates all of his power from his upper-body strength and too often arms the ball. Streaky passer with spotty accuracy. Makes his receivers work hard and throws into coverage. Does not spin a tight spiral. Very disingenuous—has a fake smile, comes off as very scripted and has a selfish, me-first makeup. Always knows where the cameras are and plays to them. Has an enormous ego with a sense of entitlement that continually invites trouble and makes him believe he is above the law—does not command respect from teammates and always will struggle to win a locker room. Only a one-year producer. Lacks accountability, focus and trustworthiness—is not punctual, seeks shortcuts and sets a bad example. Immature and has had issues with authority. Not dependable.

[...]

[H]e always will test the rules, be difficult to manage and lacks the intangibles to win the trust of a locker room. Will require a very strong-willed, demanding coach to live up to his potential and avoid the trappings of fame and fortune, but even the greatest taskmaster will not be able to keep away the drama that is still swirling from a stained Heisman Trophy and littered recruiting trail that Newton left in the SEC. Can provide an initial spark, but will quickly be dissected and contained by NFL defensive coordinators, struggle to sustain success and will not prove worthy of an early investment. An overhyped, high-risk, high-reward selection with a glaring bust factor, Newton is sure to be drafted more highly than he should and could foreclose a risk-taking GM's job and taint a locker room.
There haven't yet been whispers of a divided locker room, but GM Marty Hurney was fired this morning. Coach Ron Rivera is probably next. Most other quarterbacks would be viewed with patience if, after just 22 career starts, the front office was still struggling to build a team around them. The scrutiny of Newton, the venom as he appears to live up to the worst perceptions, shows he's not going to get that leeway. He can wave away all character concerns by returning to his improbably high standards of play, but he's not about to receive a lot of sympathy as he tries.