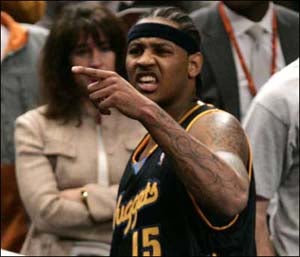 No sooner had the new TV been taken out of its box over at the new Carmelo Anthony Youth Development Center in Baltimore than the kids got an eyeful of their hero throwing haymakers at various members of the New York Knicks during their wild brawl on Saturday. One has to wonder what Carmelo would have done if he hadn't just opened a new youth center last week. Anthony thought of that also, evidently, and is now filled with remorse. He apologized on Sunday night:
"(The) altercation with the Knicks escalated further than it should have. I take full responsibility for my actions in the matter. What makes this all the more painful is that this was one of the most important weeks of my life. I just realized one of my biggest dreams when we opened the youth center in Baltimore that bears my name. ... Now the thought of thousands of kids seeing this incident on TV pains me."
Also, if there's any justice, apologies soon should be forthcoming from the following:
• Sorry for my smug post-game remarks, including the phrase 'If we were up by 20 ...' which will never ever happen. — Isiah Thomas.
• Sorry for ignoring the whole thing, thus destroying any shred of credibility we may have had. — NBA.com.

• Sorry for tossing at least two players who were just trying to break it up. — NBA refs.
• Sorry for leaving at halftime. — Knicks fans.
Anthony Backpedaling After Brawl [Denver Post]
This Baby Deserves Spanking [Denver Post]
Knicks Nuggets Brawl [TrueHoop]
Carmello Anthony Opens New Baltimore Rec Center [WJZ TV]