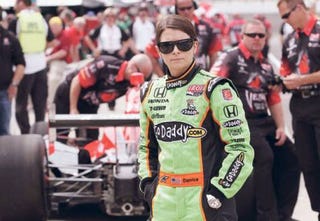 Helio Castroneves won the pole for next Sunday's Indy 500. But the real story out of qualifying yesterday was Danica getting lustily booed by the crowd. Let's posit some explanations.

Now, what they want you to believe is that the crowd took issue with Patrick publicly criticizing her car, a definite no-no in the auto racing world.
Patrick, by far the leader in merchandise sales and visibility in the series, appeared upset when she talked about the reaction.

"I say one confident thing out there, that it's not me, and everybody boos me," she said. "I don't know, maybe they were booing me before, but some of them were probably cheering for me before. I'm not a different driver than I was five years ago."
We think that's too convenient. Here are some other reasons why the Indianapolis Motor Speedway crowd booed:
•Patrick failed to turn on her left blinker until the very last moment, even though it's all left turns.
•Indy fans misheard "racing poorly" as "Tracy Porter."
•No time for anyone who isn't a Dancing With The Stars champion.
•A small subsection of racing fans are unfamiliar with Rebecca Walker and third-wave feminism's rejection of a universal female identity, and instead subscribe to the more nebulous postfeminist ideas of Christina Hoff Sommers and Katha Pollitt.
•Have you seen the rack on Milka Duno?
•Were saying "Broo-urns," for Brazilian driver Bruno Junqueira, who hopes to qualify on Bump Day.
•GoDaddy.com commercials promise more obscene content online, but never deliver.
•After five years of being the most hyped driver in IRL, she's got nothing to show for it, and seems more concerned with her looks and celebrity than becoming a better driver.
Oops, sorry, forgot to be funny for a second there.
Danica Patrick hears boos after poor qualifying at Indy [AP]