When you think of the big franchises of the last 10-15 years, you've got your Lord of the Rings and The Matrix and Harry Potter. But in its own special category has to be American Pie. For a four-year run starting in the late '90s, Jim and Stifler and the rest of their Michigan crew were Hollywood's hottest comedy franchise. (Even 2003's American Wedding made over $100 million.) The films all followed the same template: Jim gets into some incredibly convoluted, sexually humiliating situation; Stifler is utterly obnoxious to everybody; there's some sweetness to undercut the general raunchiness; and then Finch nails Stifler's mom. All those recent American Pie Presents spinoffs that show up on Comedy Central diluted the brand a bit, but for a time folks really loved these movies. After watching the new sequel, American Reunion, it's even more unbelievable to me how popular these films once were.
It's not that American Reunion (or the series as a whole) is terrible. It's just that when you get right down to it, there isn't a whole lot that's really that special about these films. You can credit the first American Pie for bringing back the Porky's-style adolescent sex comedy, playing into the fantasies and anxieties of male high school life. (There's a hot foreign-exchange student who's into you! Too bad you'll probably blow it.) But now with American Reunion, we mostly have a soap opera with some poop jokes and breasts and callbacks to memorable earlier gags. American Reunion's very existence seems to be an excuse to remind you what it was once like to watch American Pie.
The film's story is pretty basic. Jim (Jason Biggs) and Michelle (Alyson Hannigan) are still married and have a kid, which, in the world of movies, means they have absolutely no sex ever. They travel from Chicago back to East Great Falls for their high school reunion, and they run into the old gang, including Stifler (Seann William Scott) and Finch (Eddie Kaye Thomas). But romantic troubles abound. Is Oz (Chris Klein) really over Heather (Mena Suvari)? Will the happily married Kevin (Thomas Ian Nicholas) cheat with his old girlfriend Vicky (Tara Reid)? And can Jim's widowed dad (Eugene Levy, the series' unheralded MVP) find love again?
Adam Herz, who wrote the first three American Pie films, gives way to writer-directors Jon Hurwitz and Hayden Schlossberg (the guys behind Harold & Kumar), and in theory it's a good fit. At its best, the Harold & Kumar series found a way to be really funny but also unexpectedly touching, and America Reunion goes for that same combo. Consequently, this movie's central joke is that these once-irreverent guys and gals are now grownups who have to accept the fact that their crazy teen years are long gone. (Of course, that's also a joke on the audience who loved the original films and have gotten older as well.) But the problem is that American Reunion can't really make much of that conceit; all involved want to prove that they're still as "naughty" as they ever were. It's not liberating, though—it's mostly a reminder what boring adults we've all become.
If you go back and watch American Pie, you might be struck by just how ... '90s it feels now. Released in the summer of 1999, the movie has a lot of lame mainstream "alt-rock" on the soundtrack, and everybody's computer is laughably antiquated. (If you needed more proof what a time-capsule film American Pie is, it comes from a period in which having a Blink-182 cameo was a big deal.) But it's not just the clothes and hairstyles that are dated—it's the film's mindset. There's something almost charmingly naive about American Pie's risque, pie-humping humor: It harks back to an era before every TV show and movie about teens was aggressively hip and media-savvy. As raunchy and foul-mouthed as Jim and his posse were, they're actually sorta sweet—and bland. And in American Reunion, they remain bland nonentities. The same goes for the cast. Biggs's best joke is that all the younger kids in his hometown mock him for how much he looks like Adam Sandler, and the rest of his co-stars have a similar doe-eyed softness to them. (The exception, of course, is Scott, who's essentially played Stifler for the rest of his career.) Like a real high school reunion, American Reunion makes you happy to see that everyone from the old days is still doing OK. But, honestly, life's too short and you've moved on. I wish them well, but I've got to get back to my own life.
G/O Media may get a commission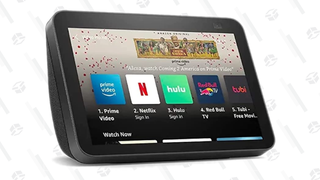 Grade: C
Grierson & Leitch is a regular column about the movies. Follow us on Twitter, @griersonleitch.