Not so long ago, Jets linebacker Bart Scott uttered some immortal words: "We take a lot of slack, people gave us no chance... we're a good football team." This is not the rhetoric emerging from Cleveland now, but it should be. Instead, we have veteran media members essentially calling Pat Shurmur a doomed loser asshole and poor Brandon Weeden psychoanalyzing his picks. Why?
The Cleveland Browns have lost, dating back to last season, 11 games in a row. This is not good. But it's instructive to look at where those losses have come from. Working backward: by 14 points at the Giants, by seven at the Ravens, by 10 against the Bills, by seven at the Bengals, by one against the Eagles, by four against the Steelers, by six against the Ravens, by three (in overtime) at the Cardinals, by 11 at the Steelers, by 14 against the Ravens, and by three at the Bengals. None of those losses was a blowout (most of them were very close!), and all but one of them came at the hands of a good football team.
What about Weeden? He could be much worse. He's got 1,288 yards (good!). a 55.4 percent completion rate (not good), and nine interceptions (bad, but partially bad luck). But has anyone looked at a Browns depth chart lately? Weeden is throwing to Greg Little (who has only 11 receptions yet five drops), rookie Josh Gordon, and Josh Cribbs, who is great with the returning but not so great with the receiving. Mohamed Massaquoi, Jordan Norwood, and Travis Benjamin (another rookie)—really, these are all receivers whom the Browns trusted—have missed time with injuries this year. And, oh, right, Cleveland's starting tight end is Benjamin fucking Watson. But all of these receivers (and their injuries!) should get better with time. And Cleveland's running game is rounding into form. Wrote Pro Football Focus of Trent Richardon's Sunday performance, "[He] showed he could take some pressure off his struggling quarterback, and looks primed to make an even bigger impression going forward."
And the Browns' defense: It also could be much worse! Football Outsiders ranks Cleveland's defense 22nd in the league, which means it's closer to the middle of the league than the bottom. They're getting their top corner, Joe Haden, back this week, which will give them better luck dealing with opponents' top receivers. (They have been starting a five-foot-nine corner named Buster Skrine: his name and size tell you all you need to know about the quality of his play.) Defensive end Jabaal Sheard is good and getting better, and and Scott Fujita is still around, for now.
So, OK: the Browns' coaches are bad. The Deadspin staff spent five good minutes today trying to figure out why Pat Shurmur earned a head-coaching job, and we couldn't. He's prickly and antiseptic, the type who thinks that's the lesson to take from Bill Belichick. We also tried to figure out why Brad Childress and Dick Jauron are the team's offensive and defensive coordinators, and we could not solve that mystery either. But bad coaches can only do so much to drag a good team down.
G/O Media may get a commission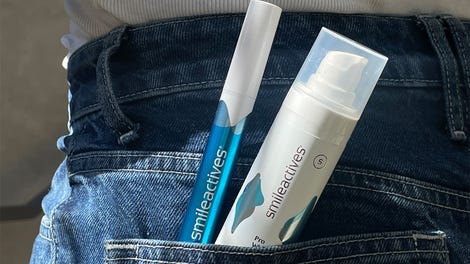 58% off
Whitening Powerhouse Pen & Gel Duo
The Browns are hosting Cincinnati this weekend. Cincinnati lost to Miami and they damn near lost to the Redskins. When Cleveland went to Cincy, the Browns fell only a touchdown short. This weekend, the ostensibly hapless Browns ought to win. And then, next weekend, at Indy, they could win again. And then, perhaps, they could beat the Chargers, that big bunch of perennially overpraised losers. And then, don't you know it, we'll be on to a whole new narrative.