After a shooter murdered 17 people with a gun at a high school in Parkland, Fla., many people were appalled all over again by one of the strangest and saddest facts of life in these United States—basically anyone can easily and legally purchase weapons of war and then use them to murder people. An anti-gun movement newly energized by disgust and grief has primarily focused its disgust at pro-gun politicians and the lobbying groups that support them financially and politically. But another hallowed American institution has come in for criticism as well: brands.

Jokic? Embiid? The NBA MVP is obvious... right? | Keep it a Buck(et)
Earlier this week, Dick's Sporting Goods CEO Ed Stack announced plans to stop selling guns to anyone under 21, and to stop selling military-style semiautomatic rifles to anyone. That Dick's (and Walmart) are making it harder for people to buy guns and murder people is good, although according to DOJ data, guns obtained via retail accounted for just 7.3 percent of the gun-related offenses of state prisoners as of 2004, which is somehow the last year that the DOJ released such data. And, of course, Dick's will continue to sell other types of guns and ammunition. If you think Ed Stack went on CNN strictly because he felt a moral duty to take a stand and not because that stand was also beneficial to the interests of Dick's Sporting Goods, I have a bridge to sell you.

Others directed similar outrage towards a very different company. Outdoor-apparel giant REI came under pressure from activists to stop selling products made by Vista Outdoor. Vista owns CamelBak, Bell, Giro, and a bevy of other respected brands, but as Aaron Napartsek pointed out earlier this week, Vista makes most of its money selling guns and ammo through brands like Savage Arms, the sixth-largest gun brand in the country.
Vista, for all the ambient credibility of those outdoorsy brands, turns out to be a very familiar type of corporate citizen. The company not only supports the NRA, but lobbies against anti-pollution regulations, a cause its leaders took up after Vista was fined for dumping wastewater in sewers in 2013. The group also donates to politicians through its SuperPAC, with past recipients including North Carolina congressman and concealed-carry advocate Richard Hudson, climate-change denier Sen. James Inhofe of Oklahoma, and Utah congressmen Rob Bishop and Chris Stewart.

G/O Media may get a commission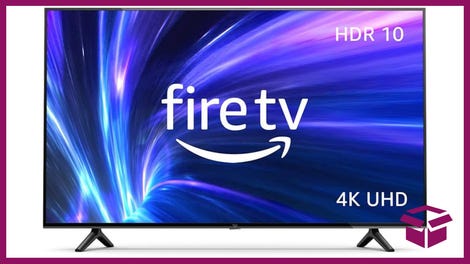 42% Off
Amazon Fire TV 50" 4K Smart TV
Stewart and Bishop are particularly relevant to REI because the two legislators were instrumental in the Trump administration's move to open 85 percent of Bears Ears National Monument and 50 percent of Grand Staircase-Escalante National Monument to oil and gas companies; the New York Times reported on Friday that the parks were redrawn specifically with oil, coal, and gas exploitation in mind. REI itself has taken an active role in opposing the shrinking of Bears Ears, encouraging customers to contact the Department of the Interior and calling for the rest of the outdoor industry to unite in opposition to the plan. If REI truly wants to fight the gutting of public lands, enriching those wielding the knives doesn't make much sense. On Thursday night, REI announced they'd stop ordering Vista products.
The two companies' very different responses to the Parkland shooting highlight an uncomfortable and often unspoken dissonance in the outdoor sports world, which spans climbers, cyclists, and other ardently conservationist subgroups, but which also includes sport shooters and hunters, who tend to have the same conservationist tendencies but whose political opinions in other areas are broadly different. There's an uneasy kinship between the politically disparate communities, despite the fact that both fall under the same general "Outdoors" umbrella. Consider why Dick's Sporting Goods was selling assault rifles in the first place, or why a place like Cabela's, which is ostensibly a camping store, continues to do so. Hell, the NRA itself has an outdoors division.
A store introducing relatively light and qualified self-regulation is very different from one refusing to sell products that help gunmakers profit down the line. REI's co-op structure and actual commitment to fighting land privatization policies suggest that it really deserves to be held to that higher standard. You can probably trust that Dick's Sporting Goods does not give a fuck about you unless you're giving them money—nothing specific against Dick's, it's just that brands are brands like that—but since REI is a co-op without shareholders and with an active role in politics, more should be demanded of them.
It was. Napartsek circulated a petition to get REI to stop carrying Vista products, and pressure mounted as several bike shops around the country cut ties with Vista as well. A few retailers halting the sale of a few products will not end or even significantly impact gun violence in this country, although the successful Vista boycott, unlike the Dick's sales change, at least seems to reflect a structural critique of gun violence rather than a cosmetic reordering of the deck chairs.

There's still a lot unresolved, here. The inherent tension that exists between factions within the outdoors world is as complicated and fraught as anything else in our politics, if not much smaller in scope. As climbing, hiking, road cycling, and enthusiasm for America's outdoors grow increasingly popular among those who live in cities (as well as, belatedly, among people who are not white men), the line between seems to grow more clearly demarcated. It is odd that camo genius Donald Trump Jr. and someone like Alex Honnold are both considered "outdoorsmen," and are served by the same industry. This is the exact internal discord that Discovery Channel show Dual Survival plays with and thrives on. Why does a conglomerate like Vista and a store like Dick's sell both rifles and bike helmets? Because the outdoor industry is strange like that.
Some of this is likely due to the evolution of outdoor sports, a field that used to be more about survivalist elements and a sense of conquering the violent wilderness than communing with nature. It's now safer and easier than ever before to, broadly speaking, go outside; as the menace of the unknown recedes, the culture around a sport like hunting, which serves a vital conservation role in many places, becomes more distinct. It is not necessarily that killing animals yourself is anachronistic, it's just that it has less reason to coexist alongside, say, someone going for a weekend backpacking trip.
Since the climbing boom of the 1960's, companies like Patagonia and Black Diamond have sought to create more just ways of doing business, and in doing so, have helped further the idea that capitalist outdoors companies can not only serve their customers, but also the world at large. Those ideas seem increasingly to have come into opposition, and anyway seem a longish distance from actual politics—if Patagonia has also been acutely adversarial with the Trump administration over Bears Ears, it's not like they're fucking Greenpeace. But while a principled stance here or there may not quite add up to ethical consumption under capitalism, it's unquestionably an improvement over the Vista-style norm.
Companies like Patagonia and REI really have spawned more responsible corporate cultures, even if those cultures have at times been played up for marketing purposes. However, if one truly believes in the idea of a better way for the outdoor industry, then that industry should be held to account for embodying the values it professes. If companies like REI (or Dick's) want to be considered as leaders, they need to behave as such. If they want to be seen as something other than cynical business concerns co-opting goodwill to sell you more stuff, then they should be interrogated about enriching groups like Vista. No industry that enfolds as many different points of view and divergent ambitions as the outdoors world could avoid such a conflict for long. Now it's here.