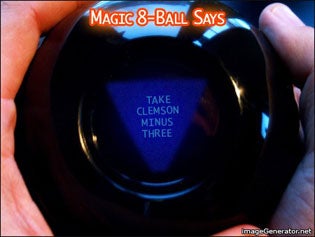 Unsilent Majority isn't here this weekend to help you bet on college football. Actually, to tell you the truth, I'm not here to help you either. But if the following college football bets turn out to be true, consider it dumb luck.
First, some advice:
• Never Bet If The Spread Contains A Half Point. Not once in the modern football game has a team scored the elusive "half point play." In 1912, when Swarthmore University lined up for an extra point against Ursinus, fabled placekicker Herbert "Asbestos" Willington drove the ball toward the goalpost, only to have it ricochet of both goal posts, caroming into the backfield and in Willington's hands. Surprised, yet alert, Willington scampered toward the end zone and achieved the "half-point conversion." Since then, nobody has accomplished the feat. So why the hell would you bet that it would happen this week?
Now onto the picks:
• Air Force (+3) over Navy — As if betting on amateur athletes isn't enough of a thrill, betting on amateur soldiers can't have any kind of moral basis. In this particular clash of military branches — and knowing nothing about either team — I'll take AFA because it sounds like they'd have a good aerial attack. I'm equally impressed with Navy's control of the seas, but the only water in the stadium will be held within plastic bottles. Go with the air cadets.
• Clemson over Georgia Tech (+3) — Like a guy playing NCAA Football 08 for the first time, Tech is doing poor in the passing game yet running like crazy. We're all aware that Jah Tech is a sleek upset pick, because a man on television wearing a suit and tie said so. But Clemson, who is riding a 4-0 start, isn't scheduled to begin their inevitable collapse until mid-October.
• Tulane (+40) over LSU — You read that right. Forty point home underdog. This is likely not a record of any kind, but it just seems wrong. Yes, LSU won their first three games by at least 40 points, but in a road game — albeit in-state — they're more like a 39-point favorite.
I'd bet on the Toledo game, but Scooter McDougle isn't answering his phone.